Mobee The Magic Bar charges your Apple BT Keyboard and Magic Trackpad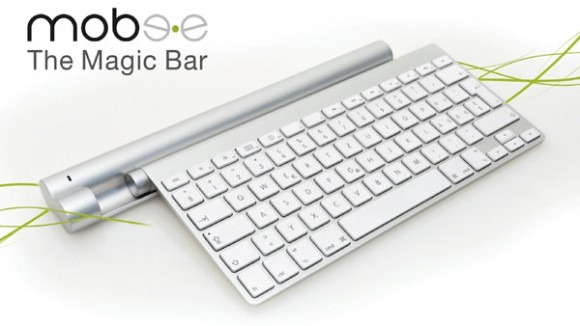 Apple has some of the coolest accessories around that you can hook to your Mac computer. The Magic Trackpad and the Apple Bluetooth Keyboard are both very cool peripherals. A company called Mobee has an accessory to go with those peripherals that will bring inductive charging to the mix.
The product is called The Magic Bar and makes keeping your accessories charged easier than ever. To use The Magic Bar all you need to do is slide your keyboard or trackpad into the Magic Bar. The device uses a cylinder battery that you screw into your keyboard or trackpad.
When you slide the keyboard in that cylinder battery charges without wires so you can get topped off and keep working. The Magic Bar plugs into a USB port on your computer to charge. The device is constructed from aluminum and can be recycled when you are done. Pricing is unknown right now, but it will ship at the end of June and you can pre-order on May 15.