Mobcrush game livestreaming fully launches for mobile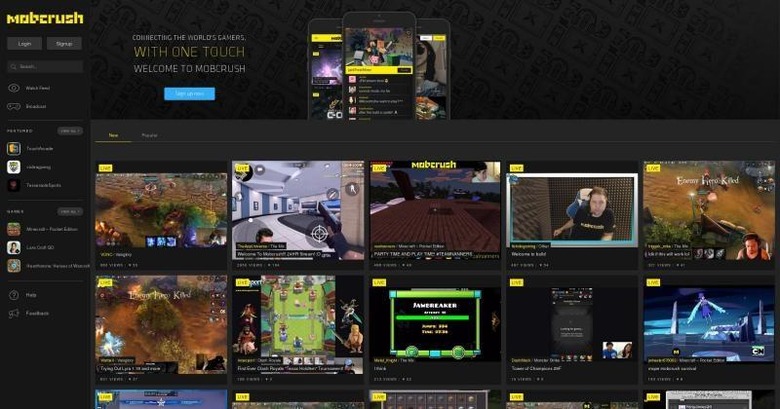 Livestreaming games has become the hottest trend, not to mention lucrative business, in the gaming industry. But mostly due to hardware and platform limitations, that activity has mostly been limited to PCs and consoles. Mobile gaming, however, has started to also become serious, and again lucrative, business. So it only stands that it, too, should start having livestreaming services and hubs. Answering that call, Mobcrush has finally released its mobile, desktop, and browser apps in an quest to create what could be Twitch.tv for mobile gaming.
Mobcrush has actually been testing its platform for quite some time now, but it really caught its big publicity break when Apple featured its app on stage at WWDC just last week. Apple showcased livestreamin of the game Olympus Rising in order to demonstrate the upcoming ReplayKit feature in iOS.
There have been other attempts at livestreaming mobile gameplay, but Mobcrush sets itself apart by providing not just the technology but also the community to make that happen. Drawing similarities with Twitch wouldn't be out of place (especially considering the design of the website itself). Mobcrush promises easy, one-tap streaming for broadcasters and easy viewing for others, though, at the moment, that only holds true for Android.
In order to use the least amount of resources, Mobcrush has to rely on the platform's native game or screen recording capabilities. On Android, that feature arrived around the Android 5.0 Lollipop release, which is why that is the required minimum version for anyone who wants to broadcast their Android gameplay. For Google's platform, users simply have to download the Android app and start streaming.
The story for iOS is a bit different but will change for the better soon. At the moment, broadcasters will have to tether their iPhones to Macs or PCs in order to broadcast. However, as mentioned, iOS 10 adds a new ReplayKit API that will allow Mobcrush to take advantage of the platform's native recording capabilities. When that happens, iOS will be on par with Android in terms of livestreaming games on the go.
SOURCE: Mobcrush