MobClix Says Apple iOS Users More Valuable Than Android Users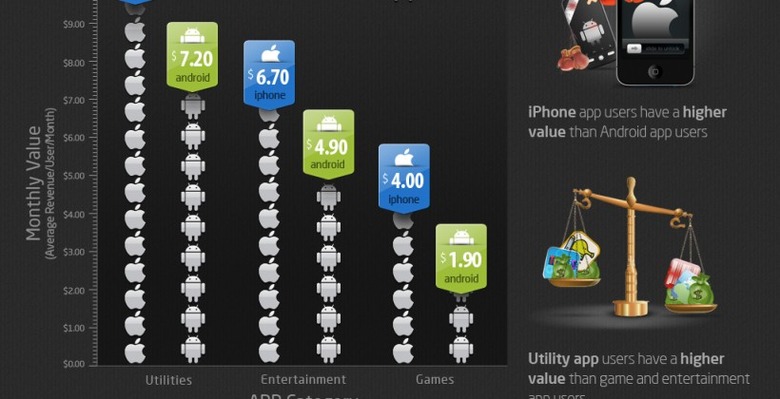 Mobclix–mobile advertising platform and open marketplace–just drew together a chart from revenue data that shows Apple iOS users to be more valuable than Android users. Their study looks at the value of an app user for developers on a per user basis. Android is everywhere and growing bigger by the minute with several different confectionary versions running on smartphones and tablets, but Apple's iOS reigns supreme right now as king of the money mountain.
The iPhone beat Android in the games, utilities, and entertainment app categories. The study says utility app users have a higher value than game and entertainment users. Aside from young kids, most iPhone users probably access utility apps like photography apps or business apps more times a day than games.
Mobclix used five criteria in their study:
- Average revenue is define as monthly revenue/unique users per month
- Apps with 500k+ downloads and/or 75k+ daily active users were used for calculation purposes
- Apps spent an average of two weeks in their categories 'Top 10' listing and are free apps
- Value is based on advertising revenues
- Active user is defined as a usage of 3 times a week for a minimum of 5 minutes.
It'll be interesting to see how long Apple can keep its lead over Android as more and more Android devices roll out.
[Via Mobclix Blog]