Mitsubishi unveils RDT262WH, 26-inch H-IPS monitor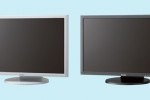 Mitsubishi has announced a wide color gamut 26-inch (25.5-inch) H-IPS LCD panel, RDT262WH, in Japan. Its specification, including the of claim of 97% Adobe RGB color range are closely resembling the new NEC 26-inch MultiSync LCD2690WUXi2 we reported early.
The color-accurate Mitsubishi Diamond Crystal comes a color management app for much easy and precise calibration. If you've been waiting on a higher resolution 26-inch H-IPS like I do, you'll be disappointed with the new Mitsubishi; it has a resolution of 1900x1200, not any better than all color accurate 26-inch currently available.
The panel supports 12 bits LUT, 1000:1 contrast, 400 cd/m2 brightness, 5ms response rate and 178 degrees viewing angles. Connectivity including DVI-D, DVI-I, a mini D-Sub 15 pin and a 3-port USB 2.0 Hub. The LCD stand has a versatile range of adjustment from tilting (45 degree), swiveling (340 degree) to height (60mm).
The Japanese release Mitsubishi Diamond Crystal RDT262WH is available in two finishes, white and black, and is scheduled to launch on February 23 at the price of 158,000 yen (~$1,768).