Mitsubishi unveils LCD-22BLR500 Real TV Recording LCD TVs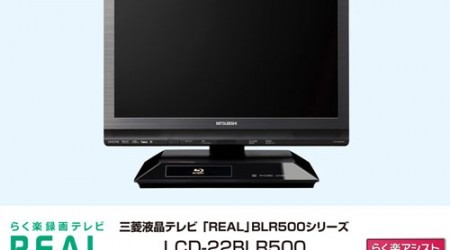 Mitsubishi has a full line of TVs for home theater fans and has lots of other home theater gear in its lineup. The company has announced a new series of LCD TVs dubbed the Luoluo Real Record BLR500 Series. The TV that is the latest to launch in the series is the LCD-22BLR500. It will land on July 21 and is a very small and compact TV that promises to be easy to operate. The big feature is in the stand of the TV and is designed to make for a clean and compact installation.
The stand has a Blu-ray recorder inside that will record your programs to a disc and will play Blu-ray films as well with no need for an external player. The recorder is able to store 12 hours of 1080p HD video to one disc using HAS AVC/H.264 compression. Using a 50GB dual layer Blu-ray inside the recorder is good for up to 52 hours on a disc. That is more programming than my DVR will hold. The TV also has a 500GB internal HDD.
That HDD can record up to 540 hours of video on its own and then shoot that video over to the Blu-ray disc. The set has dual tuners allowing it to record two shows at one time. The TV will allow the recording of SKY programming and supports internet TV capability when broadband connected. Mitsubishi uses an LED backlit panel and it has an ECO mode power saving feature and brightness sensor. The screen resolution is 1366 x 768 and it has dual HDMI inputs. The screen size is 22-inches.