Mitsubishi RDT201WDL monitor features DisplayLink Technology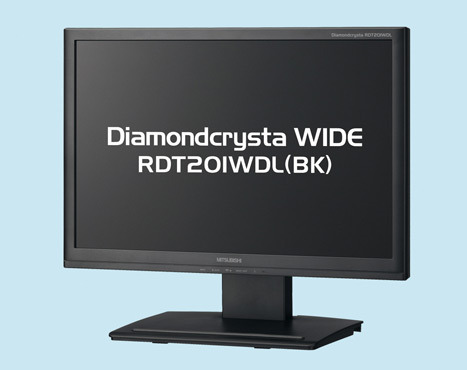 We've seen the DisplayLink technology gaining momentum from display manufactures like LG to Infocus, and was later stamped with Vista-Aero capability. The convenient USB-based multi-monitor technology has found its way to Japan with the availability of Mitsubishi LCD monitor.
Mitsubishi has revealed its first USB PC monitor with DisplayLink capability. The 20.1-inch Mitsubishi RDT201WDL sports a 1680x1050 widescreen resolution with ability to provide 250 cd/m2 of brightness, 900:1 of contrast and 5ms of panel response rate. The display has a view angle of 160 degree suggests it's more likely a TN panel. The convenience of DisplayLink's USB technology will allow multi displays expansion without the need of extra video cards. A great solution for notebook user looks to expand extra workspace with a simple cable connection. The company also said the display is equipped with energy efficient features that can shave 36 percent of energy usage compares to a traditional LCD display.
Mitsubishi has not disclosed pricing information but the display is available now in Japan.
PALO ALTO, Calif. –(Business Wire)– Oct 06, 2008 Mitsubishi Electric Corp. is now shipping its first USB PC monitor powered by DisplayLink Corp.'s innovative network display technology.

Currently available in Japan, the new Mitsubishi WIDE LCD display (model RDT201WDL) is a 20.1-inch, wide-format system that relies on DisplayLink technology to give notebook users easy access to multi-monitor computing – all through one convenient USB connection.

In addition to its integrated USB display capabilities and 1680 x 1050 resolution, the new Mitsubishi WIDE LCD display (model RDT201WDL) features a built-in Ethernet connection and a USB hub that allows users to connect a mouse directly to the monitor as well. All together, the display is a smart solution for any notebook user who wants to transform a notebook experience into a desktop experience with just one cable.

"Notebook PCs are perfect for working on a plane or train but not always so productive back at the office. The new Mitsubishi WIDE LCD display (model RDT201WDL) with DisplayLink's USB technology helps give mobile workers the visual workspace they need with next to no hassle," said Hamid Farzaneh, DisplayLink president and CEO. "Once again, a leading global electronics company has recognized that DisplayLink's plug-and-play technology is the best choice for delivering exceptional performance across multiple screens.

"The collaboration helps extend Mitsubishi's proven LCD display leadership into the fast-growing USB monitor market, while also expanding the availability of DisplayLink's innovations in Asia."

Besides bringing convenience and performance, the new Mitsubishi WIDE LCD display (model RDT201WDL) is a sustainability standout. Its energy-saving feature allows people to choose three levels of energy usage, depending on their requirements, and an on-screen energy meter shows how much power is being consumed, promoting awareness of power usage. When compared to traditional LCD systems, the combined power-saving capabilities of the new Mitsubishi WIDE LCD display (model RDT201WDL) can decrease energy use by up to 36 percent.

Energy consumption is further minimized thanks to the nature of the embedded DisplayLink hardware and software that efficiently drives multi-monitor computing via USB. DisplayLink research shows that connecting one additional display via USB increases power use by just seven percent. But if users install a discrete graphics solution onto their PCs to enable another monitor, power usage jumps 67 percent.

"That's an important – and costly – difference for any enterprise aiming to lead in 'green IT,'" said Farzaneh.