Mitsubishi projector really cheap at Circuit City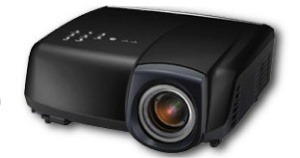 Now, this isn't really cheap in comparison to a box of paperclips, but for the home theater buffs looking for a high-end, but comparatively cheap projector Circuit City has your pot of gold. The projector is a Mitsubishi HC4900 which offers up 1920x1080 resolution also known as 1080p, a 7.5k:1 contrast ratio, and a thousand ANSI lumens.
For those of you that might not know, a 1080p projector with a relatively high contrast ratio, such as this projector, normally goes for around $3000. Well, coincidentally, that is exactly what this projectors costs, before a $700 discount and a $500 rebate.
So, you get nearly half the cost of this projector knocked off for a grand total of $1800 for such a nice projector. Personally, I am a long way off from having that kind of dough, but if I did, I'd find it really hard to pass up a deal like this, if you want one, they still have them in stock here.
Mitsubishi Lowers Projector Price Dramatically [via gearlive]