Mitsubishi LASERVUE L65-A90 Laser TV now Shipping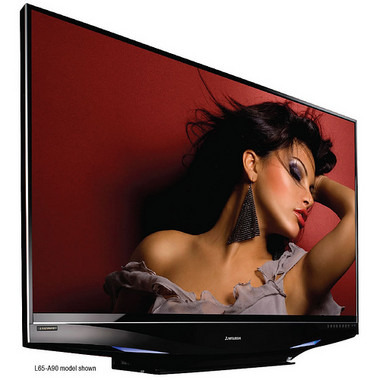 The 65-inch Mitsubishi LASERVUE Rear Projection TV has been receiving great deal of attentions since its announcement in early April. It's not only the first laser powered HDTV but also capable of displaying wider color gamut- with twice the HDTV color space, 3D-ready viewing technology, contrasty and colorful images with performance equivalent or better of Kuro TV- all at one third of power consumption with comparable models.
Being a Rear Projection TV, the L65-A90 is reasonable thin measures at a mere 10.1-inch. The viewing angles of 160 degrees are rather narrow and could use some improvements. Other highlights included 1080p, 500 nits, 120Hz, x.v color and a black lacquer finish with blue diamond accent lighting. But weights at 130 pounds, the early adopter might want to consider a proper TV stand for the LASERVUE.
Video enthusiasts now can get their hands on the finest laser-driven display if they have $6,999 to spare. The company has officially rolled out the LASERVUE display at select specialty retailers nationwide.