Mitsubishi LaserVue HDTV is 75-Inches of 3D-Readiness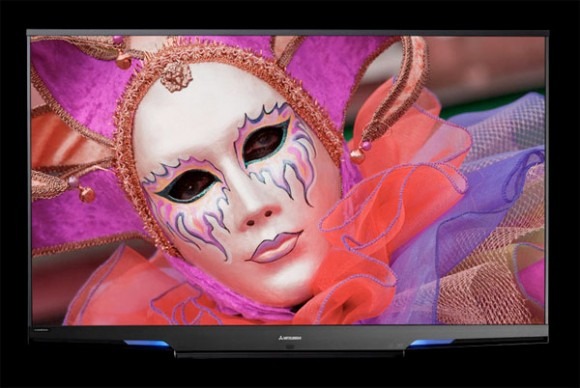 It's been a long time since Mitsubishi's LaserVue made an appearance in the real world. Something like 2008, if our checks are right. It could have something to do with that whole halt in production (which was thankfully temporary) which was announced earlier last year. We can happily announce that LaserVue is back on the scene, and this time around, it's touting 75-inches of 3D, HDTV awesomeness.
But, truth be told, it's a big TV. And no, not just the screen. The 75-inch model (L75-A91) measures in at a staggering 41.7- x 66.4- x 15-inches. It is 3D-ready, and Mitsubishi is throwing in a 3D Starter Pack, which includes a 3D emitter, 3D adapter and a remote, an HDMI cable, and a Blu-ray disc that will showcase all the awesome of Blu-ray, plus the greatness that is 3D in your living room (on a 75-inch HDTV).
The L75-A91 can also connect to the Internet thanks to StreamTV, which will get you access to Pandora, Picasa, Flickr, and other services right from your giant screen. It has a wired-IR port, 1080p native resolution, and four HDMI-CEC ports. The troubling part, is that price tag. Coming in at $5,999, which doesn't include the $399 3D Starter Pack. Also worth mentioning: it weighs 154 pounds, apparently. So, take that into advisement.
[via Engadget]