Mitsubishi HDTVs with built-in 5.1 surround sound projector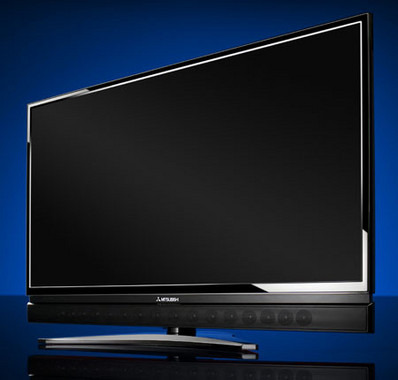 Given how well all-in-one speaker bars can work – they basically bounce sound around your room from one point under the screen, rather than requiring you to fill your lounge with separate speakers – it's a surprise that we don't see them integrated with TVs more often.  Thankfully Mitsubishi have seen the error of such ways, and announced two new LCD TVs, the LT-46149 and LT-52149, each with the integrated Sound Projector (iSP).
Measuring 46-inches in the case of the LT-46149, and 52-inches for the LT-52149, each screen is 16:9 widescreen and features CableCard, Smooth 120Hz Film Motion (which claims to remove artifacts in fast-moving HD footage), PerfectTint, SharpEdge, Deep Color, x.v.Color, DeepField Imager and a 6-color processor.  However it's the speaker array that most people will be interested in: 16 small speakers creating the effect of surround sound.  A straightforward graphical menu makes setup easy, adjusting automatically to whatever room size is entered and where the seating is placed.
A total of four HDMI 1.3a inputs with CEC, RS232, and a USB input should sort any connectivity needs you throw at the pair, and theres GalleryPlayer software for displaying sideshows of high-definition art and photography.  Priced at $3,299 and $3,699 LT-46149 and LT-52149 respectively, Mitsubishi will begin shipping the sets in July.