Mitsubishi's VUDU Integrated 1080p Flat Panel Diamond Unisen LCDs Begin Shipping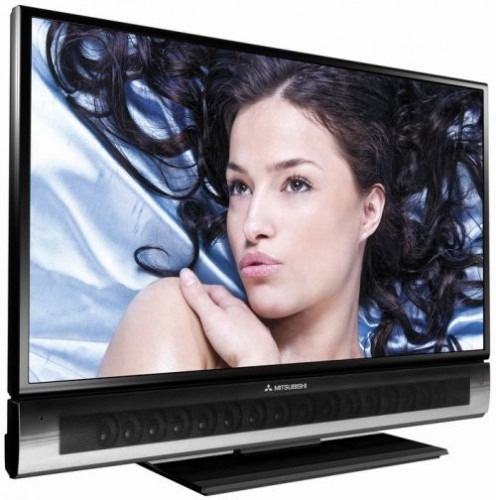 Mitsubishi Digital Electronics America has announced today that they've begun to ship their VUDU Integrated, 1080p Flat Panel LCD TVs today, all of which incorporate their Diamond models of Unisen Immersive Sound. These TVs will provide the ability for the customer to seamlessly deliver high definition (HD) movies and television shows to their sets on demand, whenever they want.
The sets have built-in Dolby Digital 5.1 surround sound, as well as an ethernet port in the Diamond Unisen models, LT-46249 and LT-52249, which allow for direct connections to the internet. There's also available, the optional VUDU wireless accessory bridge, which allows for customers to hook their TVs up via wireless network, and download to their hearts content.
"We are always looking to elevate the large screen experience for consumers, and the Mitsubishi VUDU-integrated TVs will combine unprecedented HD program choice with unparalleled picture performance," said Frank DeMartin, vice president of marketing, Mitsubishi Digital Electronics America. "Owners of Diamond Unisen Immersive Sound TVs will now have convenient access to high quality entertainment content."
There are over 2,200 HD titles and 16,000 titles available in the movie library currently. Plus, later this month, the VUDU series on Diamond Unisen Immersive Sound TVs will offer popular internet services like YouTube, Flickr, Picasa, and Pandora. There will also be an "OnDemand" TV area, with over 80 channels to choose from for your viewing pleasure. For a limited time, owners of Mitsubishi's VUDU integrated Diamond Unisen TVs will receive two months worth of free movie rentals or purchases (up to $50.00)*, including SD, HD, and HDX movies, allowing them to experience the extraordinary 1080p image quality and immersive Dolby Digital 5.1 Surround Sound of the VUDU Service running on Mitsubishi Diamond Unisen TVs.
The Diamond Unisen Features combine ultra compact design, immersive sound technology and advanced video performance to deliver a complete sensory experience without the hassle of complex setup. Each model features an UltraThin Frame™ design delivering a frame measuring less than one inch, fully integrated 18-speaker Dolby Digital 5.1 surround sound system featuring Dual Driver Extended Range Sound, and Variable Smooth 240 Film Motion for viewing of fast and slow moving programs. Diamond Unisen TVs feature wide color gamut backlight technology to reproduce approximately 25 percent more color than most LCD-TVs and both 249 Series models are EnergyStar™ 3.0 qualified.
MDEA has commenced shipping Diamond Unisen models to authorized retailers in the United States. MSRP for the Diamond Unisen products will be $2,599 for the 46" model, LT-46249 and $3,099 for the 52" model, LT-52249.