Mitsubishi Diamond Vision Modular OLED TV Going on Sale September 21st,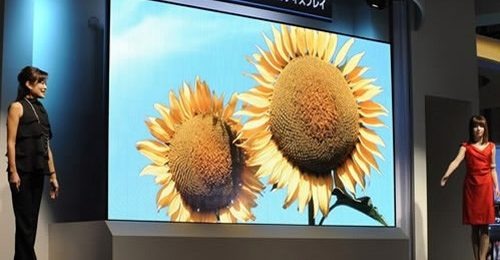 Having a big TV in your house is one thing, but having a huge TV is quite another. This new set from Mitsubishi is coming in at least 100 inches, and you can't go any smaller than that. So, if you don't have yourself a home cinema room, then this thing's probably not for you. Unfortunately, while it is an OLED set, it may not be all that it's cracked up to be.
Over the weekend, Mitsubishi announced that their first modular OLED TV would go on sale later this month. They've chosen to go with a shiny model name for the line-up of sets. Calling them Diamond Vision may indeed be enough to attract a few customers out there. The sets feature a maximum brightness of 1,200cd/m2 — which is about twice as bright as any of the company's currently utilized LED-backlit sets. The viewing angle is measured at 80 degrees. The TV's display is made of individual modules, rather than being one continuous panel. The whole thing measures in at only 15.1 inches thick, and weighs a remarkable 17.6 pounds.
But, then there's the bad news. Unfortunately, while the TV is certainly huge, it features only an 8.5 pixel density. So, while you may get the color clarity of OLED, you won't get the high definition viewing pleasure that you'd expect on most current generation TVs. The Diamond Vision Modular OLED TV will be shown off at this year's CEATEC, which goes on in Japan from October 5th through the 9th. The sets will indeed go on sale later this month, but Mitsubishi has been quiet on the pricing so far.
[via Ubergizmo]