MIT App Inventor software now available to all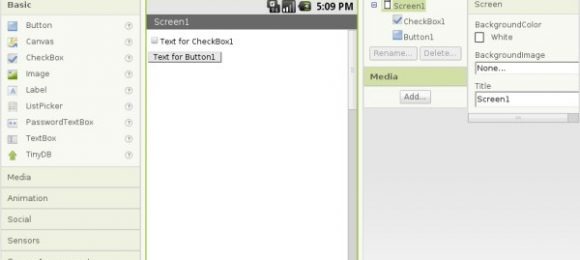 I would be willing to bet that most of us have been looking for a specific type of app for an Android device at some point and not been able to find exactly what we wanted. This typically leads the user to the notion that if they knew how to program, they could make a large profit off whatever their app idea is. If you are this sort of armchair developer, you might want to check out the MIT App Inventor.
The software is a developer platform that is now available to anyone who wants to grab it as open source. Apparently, when Google handed over the reins of Sky Map to the open source folks out there, it handed App Inventor code off as well. This app gives people a tool set that allows them to create their own apps without needing any coding skills to make the apps work.
It appears that the app gives you different code chunks for things like images, checkboxes, and a bunch of other things. The user just adds those code chunks to the screen that you want and type the text you want the screen to show. It seems easy enough at a glance, and if you want to try it out you can grab the open source code from the official page when available, that is assuming you are on Mac or Linux.
[via Engadget]