MIT App Inventor open beta preview debuts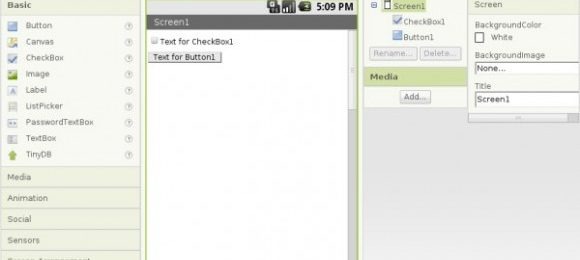 Back in January, we talked a bit about the new MIT App Inventor software aimed at helping people that aren't developers to build their own apps. MIT promised to have App Inventor available in Q1 of 2012. The first quarter is quickly winding down, and it was looking a bit like MIT might not make its self-imposed deadline.
MIT has now announced that it is meeting the goal of making App Inventor available as a public service in Q1. The App Inventor software has been in closed testing the last two months with 5000 users. The App Inventor software is now available in open beta to anyone who has a Google ID to login, such as a Gmail account.
MIT points out that the software is suitable for any use, but users need to be aware that this will be the first time the system is loaded so heavily, which could cause issues. MIT suggests that users make backups of important apps as the service ramps up with more and more users, in case there are issues. MIT also notes that it is still working on fixing remaining glitches and other errors.
We owe a large debt to our testers of the past few months; it's been their feedback that's given us the confidence for today's announcement. And we're tremendously grateful to the folks who have been running their own system with the MIT JAR files. Their experiences have been an invaluable source of information, and their work has been critical in keeping App Inventor alive while the MIT service was not yet available. We also want to acknowledge the growing group of developers who are starting to explore the App Inventor source code. They are the seeds of an open source community that we hope will take App Inventor beyond anything we could do by ourselves at MIT. And our extreme gratitude and admiration goes to the Google App Inventor team who, even while their project transitions out of Google, have continued to share their expertise and the fruit of their hard work of the past three years.