Mio MiBuddy Android PND/MID coming 2010; WiMAX version to follow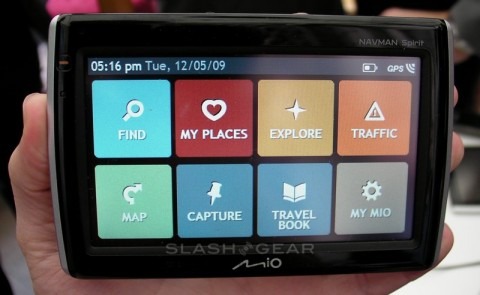 Navigation firm Mio is planning to use Android for certain models in their next-gen PND line-up.  The Mio MiBuddy range will offer both Android models – complete with GPS navigation, media playback and internet access – and versions using the existing Windows CE-based OS of Mio's current PND range.  While specific hardware details and model numbers are yet to be confirmed, Mio has revealed that the Android models will have WiFi and Bluetooth; future versions may add WiMAX.
The Mio MiBuddy devices are expected to use 4.7-inch touchscreens, which the company are promoting as offering a larger internet experience than smartphones.  In addition, the Android MiBuddy will have a slide-out QWERTY keyboard for easier text entry, and be bundled with a dashboard mount for regular in-car use.
There'll also be a speaker and microphone, meaning that while the MiBuddy will – initially – lack cellular connectivity, it could be used as a VoIP handset with a WiFi or Bluetooth link to a network connection.  Mio are yet to confirm pricing or launch details, but the Android-based MiBuddy models are expected to begin shipping in 2010.