Mio Knight Rider GPS Review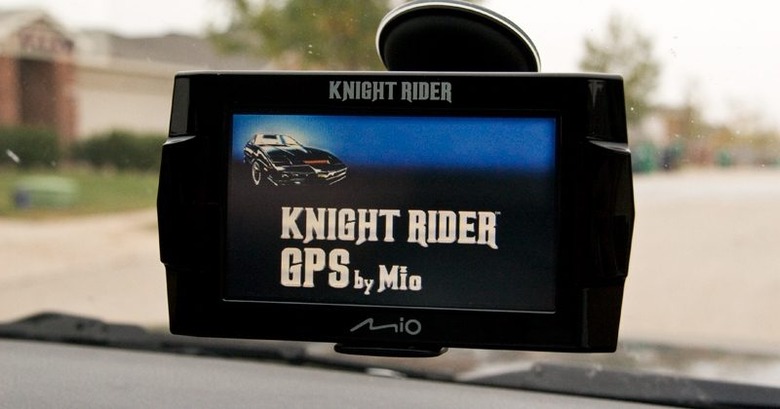 A GPS unit with classic 80s Knight Rider styling and the original voice of K.I.T.T. to give directions: Mio could've filled the box with rocks and still sold thousands to loyal fans of the TV series. Mio insist though that, behind the gimmicks, there's a solid PND (Personal Navigation Device); SlashGear strapped on a chest-wig, unbuttoned our shirts to the waist and released a hit record in Germany to find out.
First impressions are mixed. The Knight Rider GPS looks good, perhaps the one time we can say that about glossy black plastic, as it's modeled after the original Trans Am coupe K.I.T.T. masqueraded as. The initial eye-catcher is the 4.3-inch 480 x 272 touchscreen, but that's soon forgotten when the flashing red chaser LEDs get going. Mio have worked with Universal Studios to get William Daniels, original voice actor for K.I.T.T., to provide the navigation directions, and as he talks the lights flash in synchrony.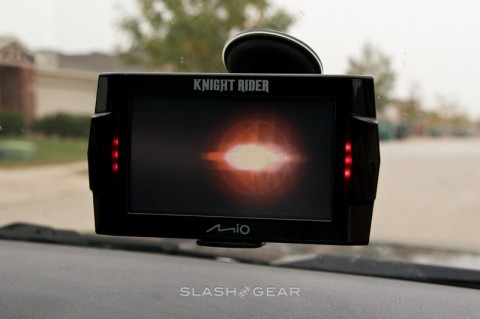 Moving around the PND, there's the power button and an SD card slot on the top, together with a mini-USB port on the bottom. Mio include a car mount (suitable both for dashboard and windshield use), a USB cable and car charger, together with instruction guides and a CD containing other voice guides.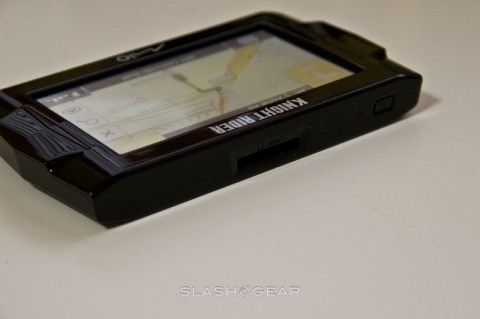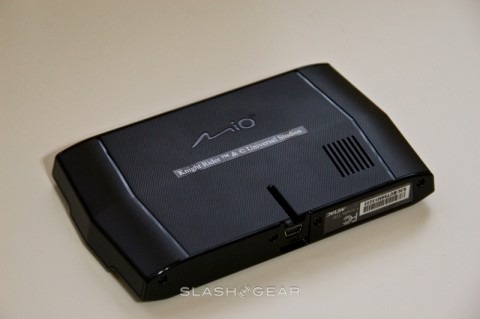 Replacement voice guides are necessary because, while K.I.T.T. will tell you which exit to take and when to turn, there's no Text-to-Speech (TTS) support. The Mio supports TTS, but Daniels didn't record the necessary road names; instead, you have to delete one of the pre-installed voices (K.I.T.T., French or Spanish) and replace it with a new voice profile from the CD. It's a relatively straightforward process using a PC and the supplied USB cable, but it does detract from the Knight Rider theme.
If you can live without TTS, you can instead have the joy of being greeted by name. That is, assuming your name is one of the 300 (equally split between men and women) pre-programmed into the PND. Once set, you're greeted with a random phrase, such as "I'll power up all systems" every time you turn the Mio on.
Address entry is via an onscreen keyboard (in either ABC or QWERTY layouts) with no provision for speech recognition as we've seen in other recent PNDs. The Mio has predictive text, which suffers a few pregnant pauses but generally works well, and routes are calculated quickly. Multi-stop journeys can be set, with stops programmed at the start or added by tapping the map, and there's both a favorites list and a history of recent destinations. The Mio can handle street addresses, zip codes, city centers or intersections, and route prioritizing distance, freeway or toll-road avoidance, or journey speed.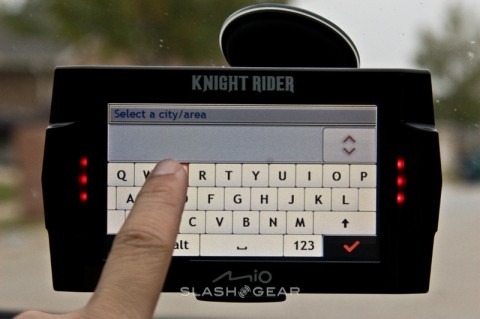 There's also a database of around four-million Points of Interest (POIs), organized into the usual categories. Since the Mio Knight Rider is not a "connected" GPS such as the Dash Express or new Telenav Shotgun, there's no automatic update of POIs. Also missing is traffic updates or a pedestrian mode; obviously David Hasselhoff never had to walk anywhere.
In use, the Knight Rider GPS lacks much of the visual glamor of other recent PNDs, but it does mark your position with a tiny picture of K.I.T.T.; whether that's enough to make up for the absence of photo-realistic intersections, signs and 3D cityscape is up to you. There is the option to switch between 2D and 3D mapping, together with the usual panning and zooming, with the current road indicated at the bottom of the screen and the upcoming turn at the top. Pull-up menus show ETA, distance and time left, current speed and a clock, together with direction, GPS signal strength, battery and volume status, and you can select one icon from each group to remain on-screen at all times.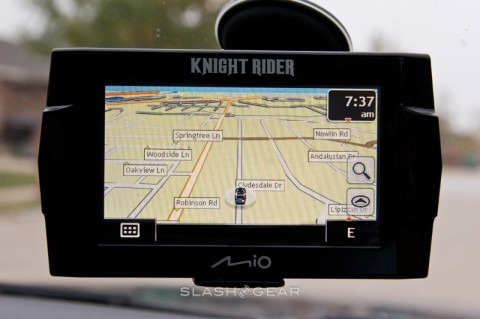 Unfortunately, we found the touchscreen to be less responsive than other PNDs we've tried, and it's particularly susceptible to glare. The included mount does offer a fair degree of repositioning, but we'd prefer the screen itself to have a more-effective anti-glare coating. During the day the flashing, pulsing lights are great. At night, however, they become a serious distraction. You're able to turn them off in the preferences menu, but it's a chore; we'd prefer a physical switch somewhere, or, even better, an option to turn them off when the GPS flips into night mode (which changes the maps and menus into a darker color scheme).
We found GPS signal acquisition times to be good, aided no doubt by the Knight Rider GPS' use of SiRFInstantFixII technology. Initial lock was obtained in a little less than two minutes, with future 'warm' locks found in seconds. It also proved tenacious at keeping a signal while in urban, built-up areas. Less successful were the re-routing options, being slower than rival PNDs.
The Mio Knight Rider GPS is a reasonable, entry-level PND, at least when it comes to the spec sheet. The obvious draw here is the Knight Rider theme, and fans of the original series will likely find it appealing. You're paying no small amount for it, however, which makes it a less reasonable proposition for anyone less enchanted by 80s cult television. One for the fans, yes, but everyone else will get more for their money elsewhere.
Unboxing Video
Photo Gallery