mintpass mintpad gets US distribution; on sale at Amazon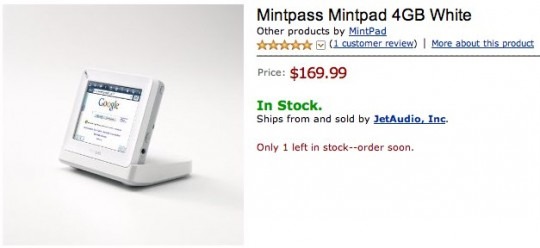 We may receive a commission on purchases made from links.
mintpass' palm-sized mintpad PMP and internet browser has gone on sale through Amazon at $169.99, courtesy of specialist importer JetAudio.  The availability follows a brief period of pre-sales directly from mintpass themselves, and – at least according to a statement made to Pocketables – seems to indicate that the company have partnered with JetAudio for their US distribution.
"[We] feel that rather than working with small timers, it may be a better option to work with [a] bigger player like Cowon." mintpass
The partnership has already raised eyebrows, since JetAudio is known for its collaboration with Cowon, arch Korean rivals of iriver (the company from which the mintpass team originally splintered).  However sales would seem to be going well already; the distributors are down to a single remaining unit, at least according to their inventory on Amazon.
The mintpad is a compact MID with a 2.83-inch touchscreen, WiFi b/g connectivity and a 1.3-megapixel camera.  It can be used as a video and audio mediaplayer, as well as for browsing the internet via a proxy web service that compresses pages and reduces download times.  More details here.
[vms 55b24c4e168c5fc2ebd4]
[via Pocketables]