Mintpass mintpad 2.8-inch touchscreen WiFi web tablet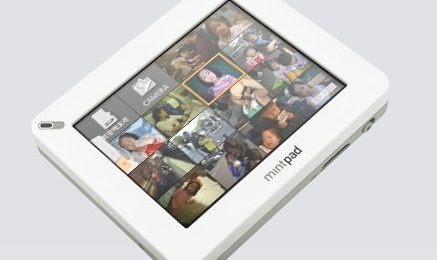 It might look like a basic PMP, but actually this is something far cooler: the Mintpass mintpad MP100 is a 3.2oz, palm-sized web tablet, with a 2.86-inch QVGA touchscreen, WiFi b/g, integrated 1.3-megapixel webcam and 4GB of internal storage.  All that in something measuring 3.08 x 2.51 x 0.60 inches.  Best of all, this is no crazy prototype: it's actually available in Korea.
Mintpass was set up by the former founder and CEO of Reigncom, iRiver's parent company, who took with him many of the people responsible for iRiver's more impressive designs.  The mintpad is the first example of their new work: based on Windows CE 5.0 (though that's well hidden under a custom GUI), it's capable of web browsing, instant messaging, music and video playback, photo viewing (and taking, courtesy of the camera) and blogging.
Exactly how much of those things you'd want to do on a 2.86-inch display is arguable, but you can't particularly complain about the specs.  The mintpad's battery is apparently good for 30hrs music playback or 5hrs video, and it'll supposedly retail for just 198,000KRW ($157).  This thing can't hit the importers a day too soon.
Check out the video demos here.
[via Pocketables]