MintBox Mini gives Linux users a pocket-sized PC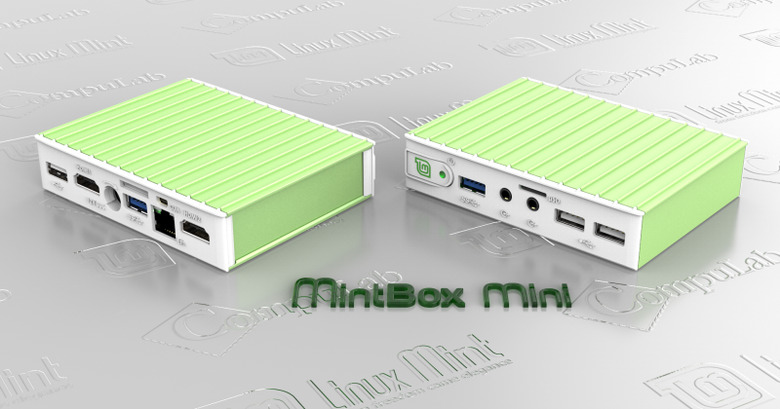 It seems almost ironic that while are phones seem to be getting bigger, PCs are getting smaller. At least those that aren't hulking beasts constructed for raw power, for gaming and whatnot. Though not as ridiculously small as Xiaomi's Mi Box mini "set top box", if you could still call it that, this new MintBox Mini still tries to deliver a PC that is powerful enough for your basic computing needs yet small enough to fit in your pocket. Presuming, of course, you'd actually keep one in your pocket.
The MintBox Mini comes from Fit-PC, a company that has been making these mini PC devices for quite some time now. In fact, this is the third incarnation of its MintBox line which started back in 2012. Compared to its older siblings, this "mini" is said to be a one fifth the size. The MintBox 2 measures 19cm x 16cm x 4cm (7.5 in x 6.3 in x 1.6 inc), so we leave it to your vivid imagination to see how much smaller this box really is.
Despite that size, however, the MintBox Mini is no underdog. Unlike most mini/pico PCs around, in fact unlike the previous MintBox 2, this one runs on a 1 GHz quad-core 64-bit AMD A4 6400T processor and is helped in the graphics arena by a Radeon R3. RAM is quite generous at 4 GB though some might think that 64 GB internal storage is a bit small. That may be true for something running Windows, but since this is a Linux Mint box, that is definitely plenty.
The MintBox Mini definitely doesn't skimp on the connectivity area, with a wealth of ports both front and back. In no particular order, the box has three USB 2.0 ports, two USB 3.0 ports, an Ethernet jack in addition to WiFi, sockets for mic and headsets, a microSD card reader, and not one but two HDMI slots for a dual display option.
As mentioned, this runs the Linux Mint distribution out of the box, so those unfamiliar with the OS might shy away from it. But for $295 in the US or €295 in Europe, the MintBox Mini might be a tempting general-purpose box that tinkerers can repurpose with their OS of choice.
VIA: OMGbuntu