Minox Suntimer UV Alarm Watch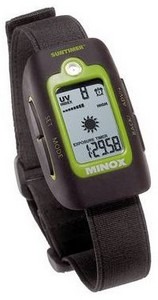 If, amazingly, you are not chained to a computer in a dark stuffy room all day, and you actually venture outdoors in the sun way too often, then you need to protect yourself against deadly UV rays. A device like this Minox Suntimer UV Alarm Watch has special sensors that can detect the amount of UV radiation in the sunlight, sounding an alarm to let you know when to duck and cover.
The Suntimer watch can also let you personalize the settings by calculating your optimum UV exposure based on factors such as your skin type and the type of sunscreen you use. So even if you are stuck in an office and hardly see the light of day, it may still be a good idea to throw away that old calculator watch and take a bold step out into the sun during your lunch break. Priced around $60.
Suntimer – the sun alarm watch [Via: Redferret]