MINOX DSC SpyCam gets digital upgrade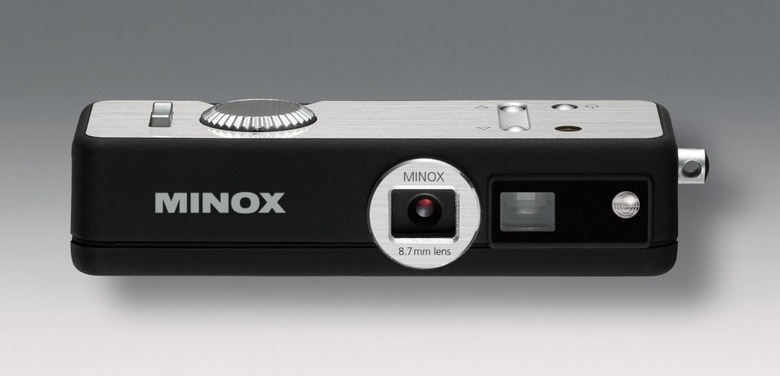 MINOX have re-released their iconic SpyCam in the shape of the DSC SpyCam, with new 3.2-megapixel (5-megapixel interpolated) digital optics and a microSD card slot for up to 16GB storage.  The camera, which measures 3-3/8 x 1-3/16 x 7/8 inches and weighs a mere 2.1oz, is small enough to be hidden in a clenched fist.
Onboard there's 128MB of internal memory and a Li-Ion battery, together with an integrated LED flash.  For darker environments, or when you'd rather not use the viewfinder, MINOX offer a plug-in external flash and display module, which has a 1.5-inch 480 x 240 LCD screen.
Obviously you're not buying the MINOX DSC for its image abilities, but its size and history.  It's available now, priced at $249.
Press Release:
Legendary MINOX Spy Camera Lives Again in New Digital SpyCam

Whether you think of James Bond or go farther back in time, the name MINOX usually conjures up a vision of their legendary spy camera. Now, MINOX adds to the legend with introduction of their new Digital SpyCam (DSC).

German engineers and designers at MINOX have been working closely with the creative staff of Volkswagen-Design for more than 10 years, winning several design awards, and they consider the SpyCam their latest spectacular coup.

"It's not often that a designer gets the opportunity to deal with a legend," said head designer Jens Kohlhase, "and this MINOX classic has remained unmatched in photographic history".

"It's fascinating how much technical know-how can be packed into such a small space" he added. "Adapting the legendary spy camera to accommodate complex digital technology and still keep its ultra-miniature format was a real challenge."

The new Digital Spy Camera is just 3-3/8"x1-3/16"x7/8" and weighs only 2.1 oz., so small it can disappear into a clenched fist and can be taken anywhere easily to capture images of very high quality. Focal length is 8.5mm, equivalent to 42mm in 35mm format. It has an internal memory of 128 MB and can take a memory card up 16 GB and has a rechargeable Lithium-Ion battery. Resolution is 5.0 MP. The SpyCam retails for $249.

"The small spy camera has always been a legend," said Thorsten Kortemeier, MINOX managing director. "The first thing one associates with MINOX is James Bond, or perhaps the mining disaster in Lengende, where the trapped miners were saved thanks to the assistance of our miniature camera."

"It is a lot more than just a small camera; the DSC turns every photographer into a spy," Kortemeier added with a wink.