MinnowBoard Max lures DIY users with Intel Atom E3185 or E3825 CPU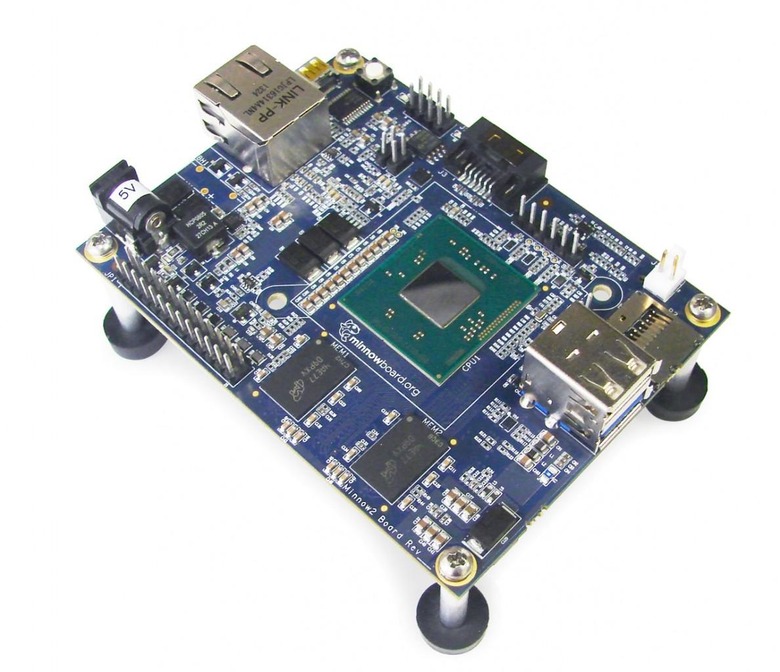 DIY types that like to build up various small PCs or other projects using cheap and compact hardware have several options on the market today. One of those options is the Raspberry Pi. Those looking for something with more power than the Raspberry Pi can now get their hands on a product called the MinnowBoard Max.
The Max is the follow-up to the MinnowBoard that launched last year packing an Intel Atom 640 processor under the hood for $199. The good news is that the Max is not only more powerful with new and updated hardware; it's also cheaper than the original. The starting price for the MinnowBoard Max is $99.
That entry-level price will get you a developer board with a 1.46GHz Intel Atom E850 single core processor and 1GB of RAM. If you need more performance from the CPU, you can opt for an upgraded version that has a 1.33GHz Atom E3825 dual-core processor and 2GB of RAM for $129. MinnowBoard Max hardware will support projects using a number of operating systems such as Android 4.4, Debian Linux, and others.
Connectivity options on both versions of the board are the same with HDMI, USB 3.0, and USB 2.0 ports. It also has GPIO pins for debugging and peripheral connectors, and 8MB of system memory for firmware. The maker also builds in a microSD card slot for storage space. Both versions of the MinnowBoard Max will launch in June. These boards will be good all sorts of projects like HTPC machines and more. The manufacturer is aiming them at digital signage, ATMs, and point of sale systems.
SOURCE: Liliputing