Minecraft Xbox 360 gets 55 Halloween skins, proceeds go to charity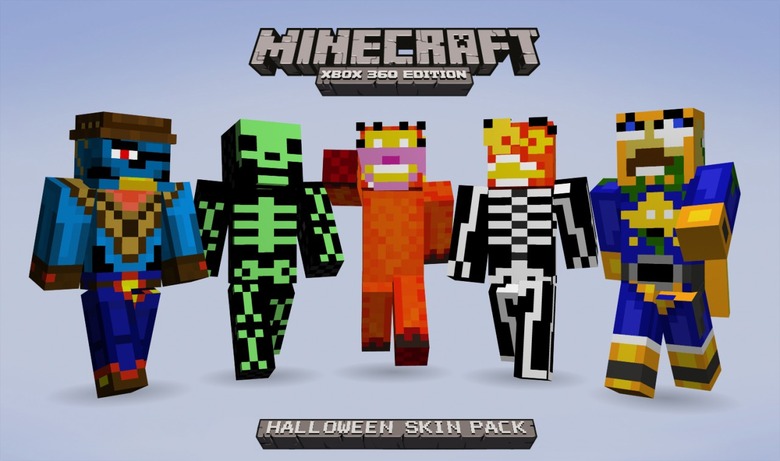 Tis the seasons for ghouls, ghasts, and perhaps most importantly, candy. Halloween is right around the corner, and to celebrate, Mojang and 4J studios have released a pack of 55 Halloween-themed skins for Minecraft: Xbox 360 Edition. The skins were put together by a number of different studios, including Mojang, 343 Industries, and Rare.
Even better is that this skins pack is cheap – we're talking just 160 MSP, of $2 for those of you who prefer real-world terms. All of the money made from this DLC will be going to charity, so not only can you get 55 Minecraft skins on the cheap, but you can feel good about the fact that the money you paid will be going to a good cause. PlayXBLA says that the profits will be split up four ways, going to Block by Block, SANDS Lothians, Child's Play, and Macmillan Cancer Support, and you find out more about each by clicking here.
The list of skins is long and varied, with a number of different developers (both indie and big-time) contributing to this pack. Have a look at the full list below, which includes the developers and each of the skins they're responsible for:
• 343 Industries: Vampire

• 4J Studios: The Grim Reaper, Devil, Dracula, Frankenstein, Mummy, Werewolf, Ghost, Evil Wizard, Bride of Dracula, Bride of Frakenstein, Ghoul, Scary Clown

• Army of Trolls: Dracula, Frakenstien, Pumpkin, Skeleton, Mummy, Wolfman

• Climax Studios: Zombie Businessman, Cyclops, Evil Clown, Evil Robot, Vampire Girl, Grey, Headless Horseman, Lizard Man, Scarecrow, Scary Nom, Mad Scientist, Skeleton, Witch Doctor, Zombie

• Mojang: Evil Robot

• Owlchemy Labs: Zombie Jack Lumber

• Press Play: Evil Lemmy, Evil Max

• Rare: Gregg the Grim Reaper, Ancient Mummy, Zippy Zombie

• Ronimo Games: Zombie Lonestar

• Ska Studios: Cyborg Pumpkinhead, Mara

• Tequila Works: Mining Unit 010, Jacko, Bonny

• The Behemoth: Hatty

• Toylogic: Happy Zombie Cleric, Happy Zombie Mage, Happy Zombie Warrior

• Twisted Pixel Games: Captain Zombie, The Gunstringer, Ms. Splosion Man Mask, Skelly, Splodeton
That certainly isn't bad for just $2, but to be honest, we think 4J could have charged more, considering the fact that 55 skins are included in this pack and the profits are all going to charity. The pack goes on sale today, but if you want it, you'll have to act quick – it'll only be available until November 26. Are you picking up the Halloween Skin Pack for Minecraft: Xbox 360 Edition?
[via PlayXBLA]