Earlier this month, Mojang informed us that the various episodes that comprise Telltale's Minecraft: Story Mode were living on borrowed time. On June 25th, the company said, all Story Mode episodes will be removed from digital storefronts, which means no more downloading them and certainly no more purchasing them. With the date decided, Microsoft and Mojang urged everyone to download whatever they wanted to keep before the 25th rolls around and these games disappear for good.
Then something strange happened. If you search for Minecraft: Story Mode on Xbox 360, you'll be greeted with episodes that are so outrageously expensive it warrants a spit take. Every Minecraft: Story Mode episode has shot up to $100, which is prohibitively expensive and not at all worth it. What gives?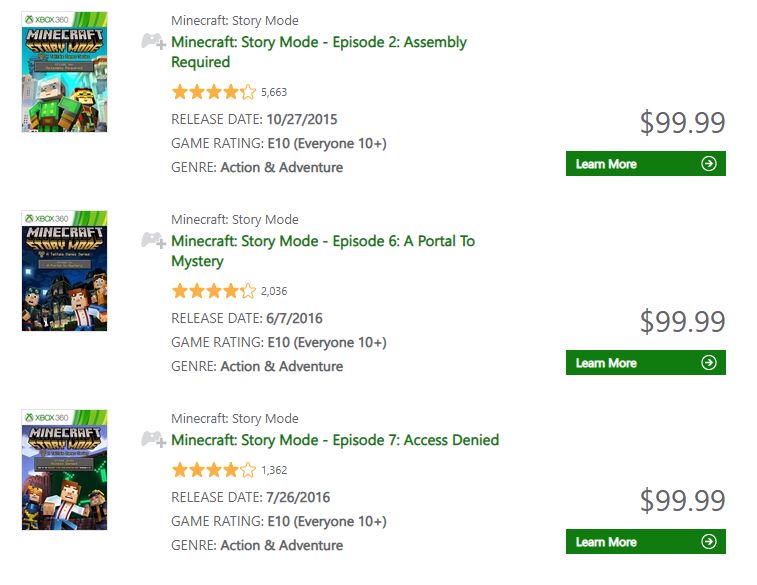 As it turns out, de-listing games but still allowing users who already purchased those games to download them isn't something the Xbox 360 platform is actually capable of. Re-listing them at a high price was the only way to allow owners to download these games up until June 25th while discouraging new purchases.
With that in mind, the Minecraft: Story Mode Facebook page has a serious warning for anyone who happens upon these Xbox 360 listings: don't buy them. If you do, you will actually be charged $100 per episode and you and your bank account will both be left despondent. These listings are only live so people who already own Minecraft: Story Mode can download the content they've purchased before the servers go dark.
Now seems like a really good time to reiterate that both seasons of Minecraft: Story Mode will disappear from all platforms entirely on June 25th. If you own the games, be sure to download them to the platform you purchased them on before that date or risk losing your chance to do so forever.