Minecraft Magic the Gathering skins mashes two worlds together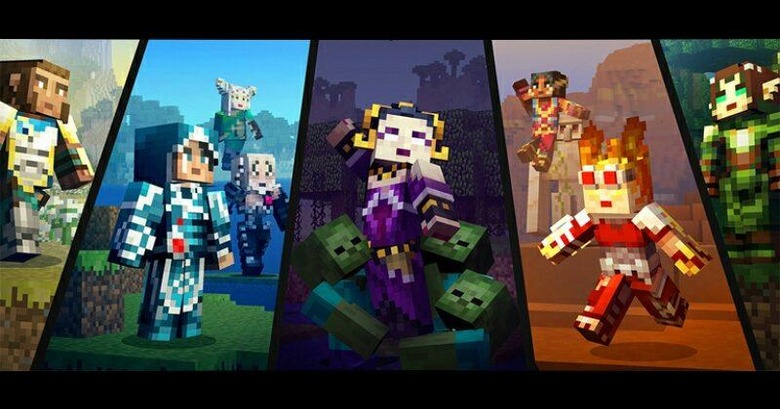 Minecraft is a digital world where dozens if not hundreds of resourceful and persistent players enjoy bringing favorite worlds and characters into its blocky, voxely world. Unofficially of course. But why should only fans have the fun? Even those who actually make Minecraft must be fans of some things, right? Indeed, last March we saw Mojang bring officially sanctioned Power Ranger skins to commemorate the launching of the new film. Although there is really no occasion to mark, Mojang is announing the arrival of 2D Magic the Gathering characters to the 3D world of Minecraft.
This fusion of Minecraft and MtG is a bit ironic, considering Mojang's history. Not too long ago, the company launched Scrolls, its own take on the card battle game, except on a computer. At that time, Magic barely had any palpable presence in the digital world. Long story short, Scrolls was eventually shuttered, leaving Hearthstone as the king for the very small hill. While Magic does have some mobile apps, those are but a shadow of its true grandeur that can only be experienced in the real, physical, world.
This Minecraft tie-in brings a bit of that grandeur to mobiles and Windows 10. Well, a very small bit. These are just skins, after all, and not entire whole maps and mods that would have let you enjoy the fantasy world of Magic inside the fantasy world of Minecraft. Fantaception!
If, however, you are s die-hard fan, even the slightest nod towards your favorite franchixe is enough to send shivers down your spine. And while you may never get the chance to look like a lion like Ajani Goldmane, you can at least dress up your voxel persona (voxona?) in his grandess. About 15 skins are available, letting you take on your favorite Planeswalker.
The new Magic the Gathering skins are available for the Pocket and Windows 10 editions of Minecraft. But don't worry, ye Consolewalkers, it will be coming to you too soon.
SOURCE: Mojang