Minecraft LEGO set confirmed, cult gamers rejoice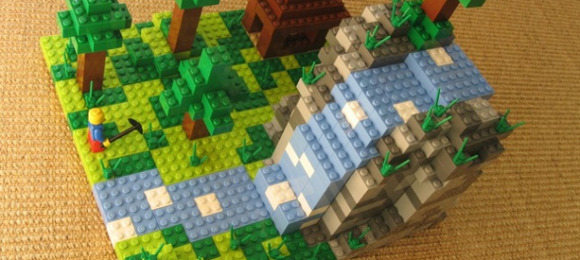 The cult classic video game still undergoing development and exploding in popularity on both the web browser and mobile platforms has been approved in LEGO form. There's a brand new set coming through officially through the LEGO project known as CUUSOO – this program being a socially judged creation platform for LEGO fans who want to see their projects made into real LEGO-carried sets for stores. With the Minecraft set having reached 10,000 votes, LEGO will officially be making a set!
People submitting to CUUSOO requires that you get an idea, create the project you dream of, post it up to the site, get 10,000 supporters, and whammo! You've got your own project. If your project passes the CUUSOO review here, it will be produced by LEGO and you the creator will receive 1% of total net sales throughout the project's lifespan. Have a peek at the CUUSOO concept here in this fancy animated video:
Then know that the creator of this Minecraft project was none other than the developers of the game itself: mojang. To get the project going, mojang worked with a couple Minecraft fans to produce some awesome sets that would help to inspire CUUSOO users to bring them into the LEGO fold. It appears that the set above might be the one to be winning in this situation, but the ones below are magnificent as well, of course! Read this statement from mojang and jump with glee!
Minecraft is about placing blocks to build anything you can imagine in the virtual world. You can build anything you imagine with LEGO bricks in the physical world. Minecraft and LEGO were meant to be together.

We've invited a couple of the LEGO fans behind the earlier LEGO Minecraft projects, suparMacho and koalaexpert, to collaborate with us to shape the idea. We're also interested in your ideas, and will select the best LEGO Minecraft models to also join our efforts.

As the official Mojang LEGO Minecraft project, we will work with the LEGO Group to secure a licensing agreement and donate the 1% royalty from LEGO CUUSOO to charity. Let's make LEGO Minecraft happen together!! =D
Will you pick up the Minecraft lego set? It really truly is a match made in heaven – if you've played with both you'd have to agree!
[via CUUSOO blog]