Minecraft is about to get the Pokemon GO treatment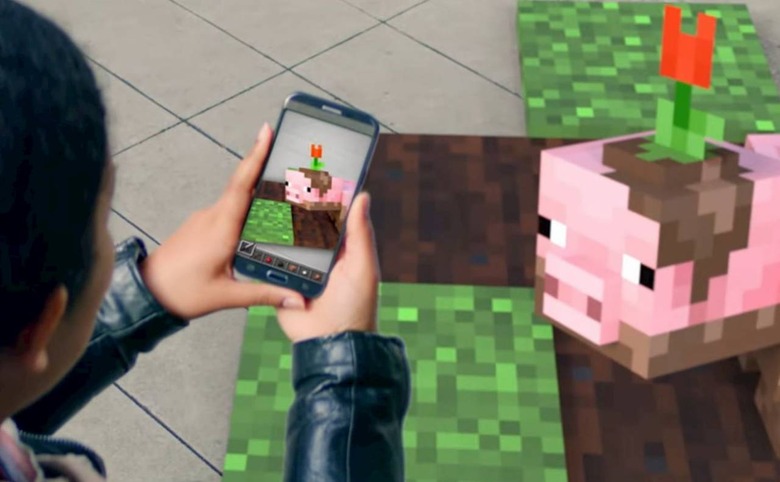 Minecraft is celebrating a big milestone this year, as it'll mark the 10-year anniversary since the game first launched publicly and started down its path of industry domination. Microsoft, apparently, has a big things lined up for that anniversary. It turns out that Minecraft will soon be making the jump to augmented reality, but at the moment details are painfully slim and we're not going to know more for a little while longer.
Yes, Minecraft is about to get the Pokemon GO treatment, which could wind up being huge for the beloved franchise. Microsoft teased the AR version of Minecraft in a tweet today, publishing the video you see below. In it, we see Minecraft's Saxs Persson leave his phone behind on a bench, and when a bystander picks it up, she sees that he's been playing Minecraft in AR.
Persson, of course, comes back to retrieve his phone before too much is given away, so we don't really get a chance to see what Minecraft in AR is all about. There are no details on how it will play or how it will differ from the main game at the moment, but as with Pokemon GO, we can probably expect the AR version of Minecraft to play quite a bit differently than the game that spawned it.
Microsoft's tweet tells us that we'll learn more on May 17th. That's the day that the very first public release of Minecraft launched ten years ago, so Microsoft's timing is definitely on point.
Ultimately, we're left waiting until then to find out what all of this is about. It'll certainly be interesting to see if Minecraft's AR turn can climb to the same heights Pokemon GO did a couple of years ago. Pokemon GO was a huge success, and Minecraft's legions of fans might help this AR game achieve a similar level of popularity.