Minecraft Gameband Review
If you're in the mood for Minecraft and you move from machine to machine on a regular basis, you may want to have a peek at the Gameband + Minecraft. This unit has actually been in "soft release" mode for a few weeks – it first surfaced a few months ago, in fact, but today it's on blast courtesy of the folks at Gameband and Microsoft. In addition to being sent to none other than Larry Hyrb last week, you'll be seeing this piece of equipment appearing in stores across the United States immediately if not soon.
The Gameband + Minecraft is a piece of equipment that's essentially a bracelet with the ability to plug in to your laptop or desktop machine's USB 3.0 port and back up your Minecraft game automatically. On the side you'll find a 140 array LED display in red, and inside you'll have an 11mAh dedicated battery that, regardless of its small size, will last you 20 days or better without issue.
What might you need a dedicated, rechargeable battery for, you might ask?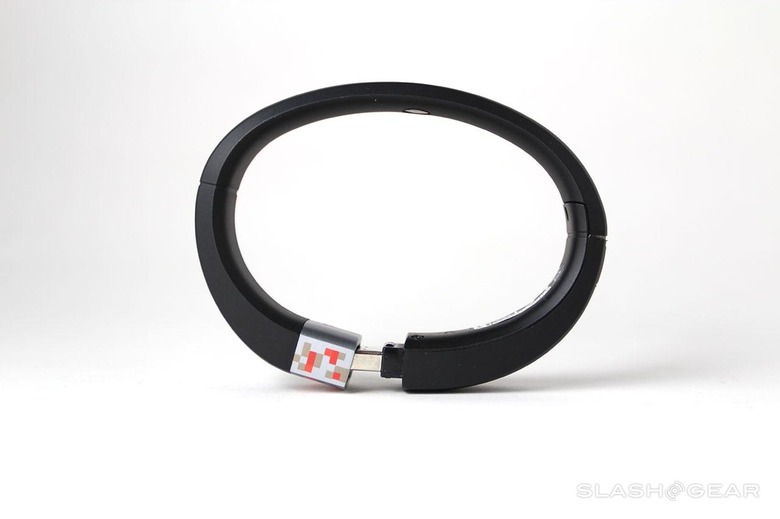 For the LED display, of course. For displaying the time, the date, and animated pixelated images. In addition to containing software which lets you pick from a pre-made collection of animations for the band, you'll be able to create your own.
You can make this tiny display show whatever you like.
Software inside works on Windows, Mac and Linux right out of the box. Before you begin playing Minecraft, you're going to want to try out the app (on the band, once you plug it in), called Pixel Furnace.
This app allows you to set up lighted animations and make with the entertainment around your wrist.
Also included on the band is a collection of pre-made worlds. These worlds will pop up the first time you launch the Gameband launcher inside Minecraft with the rest of your saved worlds. They include arenas and games created by Sethbling, Hypixel, and Dragonz.
What follows is a BRIEF look at what worlds you'll be able to play in direct from the band.
The primary reason you'll have purchased the Gameband isn't pre-loaded content, however – it's the saving of your games. Using a pre-loaded Minecraft launcher and onboard space, this band keeps your Minecraft saved games local.
In addition to saving your game on the band, Gameband keeps your data in its secure, cloud-based servers. The Gameband is your key to that data, so to speak.

While you COULD save your Minecraft game to any other average old USB stick, this setup allows you access to your games even if you lose your Gameband. Buying a new Gameband and logging in with your Mojang account will give you access to your game just the same as if you'd never lost it in the first place.
There is a fee for this cloud-based server action. After the first year (free) of using the cloud backup service, you'll be asked to pay a (nominal) $9.99 per year.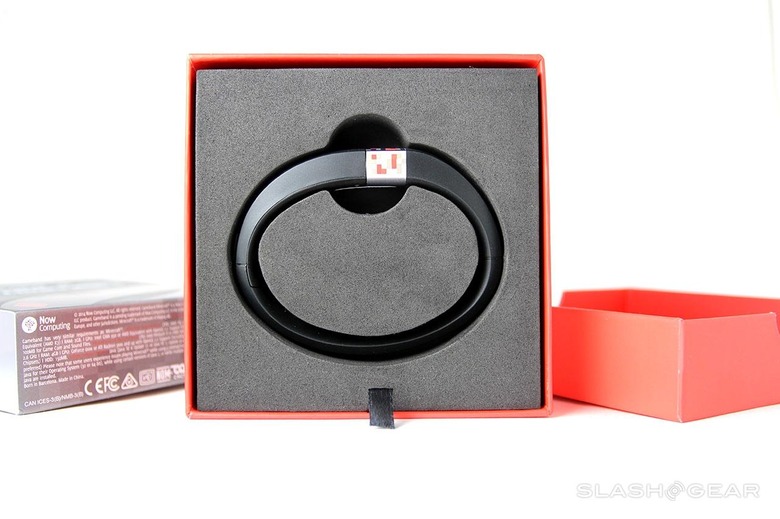 While you might see some argument over which crowd of consumers this piece of equipment was made for, kids, adults, or in-betweens, I say let your pixel flag fly: wear whoever you may be.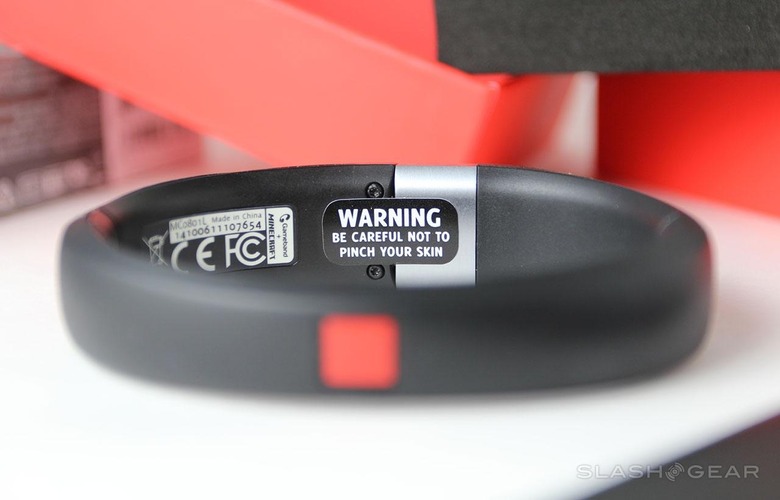 Watch for the pinch – clasping this band isn't the easiest thing to do in the world, but once you've done it a couple of times, you'll get the hang of it.
While I've had trouble wearing most wristbands – watches or otherwise – over the past year or two of this "wearables" rebirth, this band has been kind to my skin and my wrist. It's just big enough to lay soundly on my wrist, and not so bulky as to disturb my all-day typing.

Above you'll see an exploded view of the device – there's more than you'd expect under this band's hood!
I have the Large version – that's 7.2-inches or 17.3 cm, and it fits comfortably around my adult, albeit skinny, forearm. There's also a Small version at 6.7-inches/15.7 cm.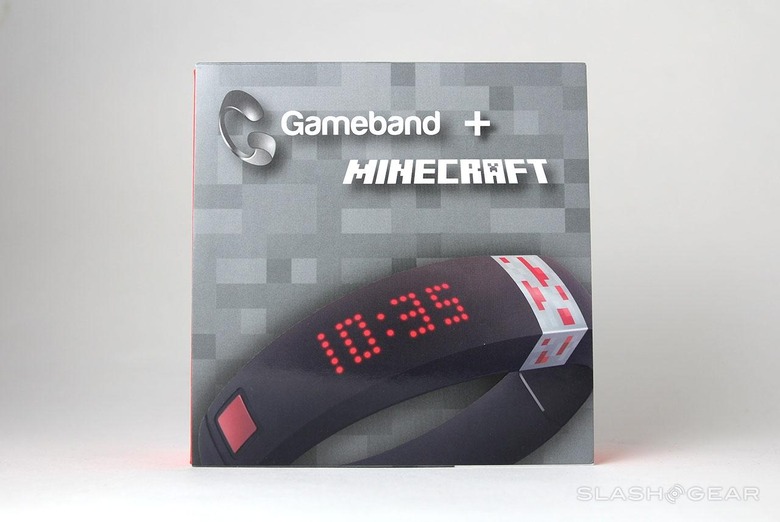 In the time between this band's original concept and final execution, Minecraft changed hands from Mojang to Microsoft.
Because of that, you'll be able to find the Minecraft Gameband in Microsoft stores as well.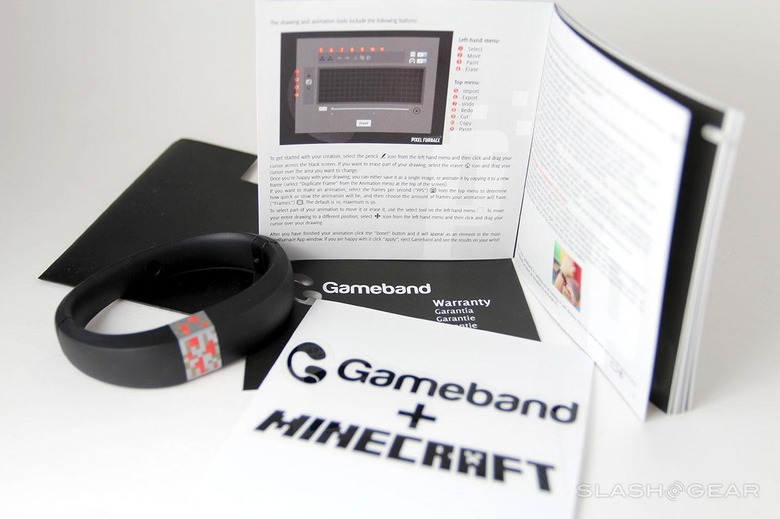 And don't forget the box – it's cute enough to use on it's own once you're band-on. That little bit of glossy bonus makes all the difference when it comes to first impressions.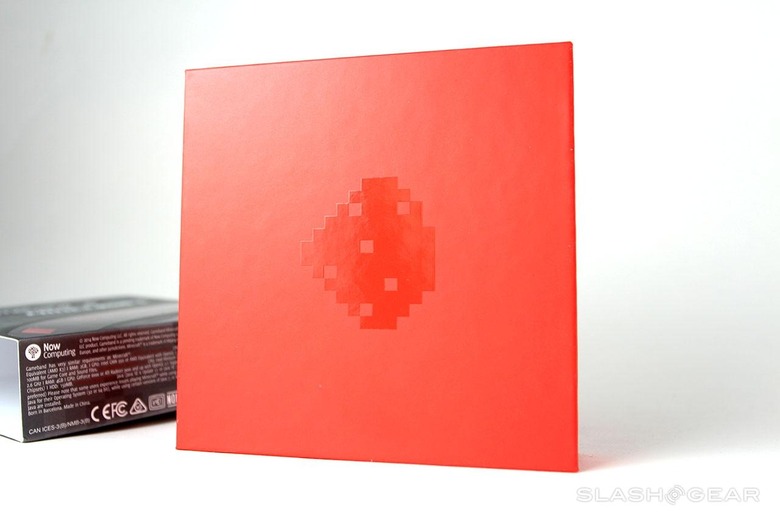 The Gameband + Minecraft will run you $80 USD and is headed to Best Buy, GameStop, and Target – in fact it's likely in your local retailer right this minute.