Minecraft for PS4 to get 'The Simpsons' skin pack tomorrow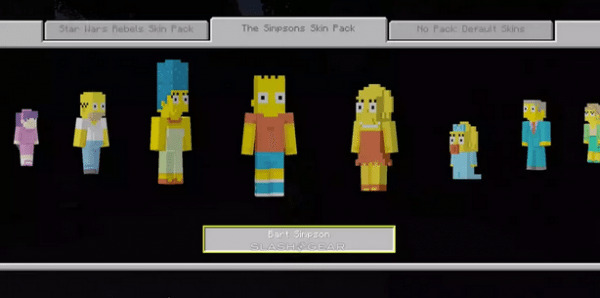 Earlier this year, Minecraft players got a The Simpsons skin pack for Minecraft...if they were using an Xbox, that is. We did a mini review of sorts to give a look at the skin pack, and now those on the PlayStation 4 who have been waiting will also be able to get it. The DLC is set to drop this week, and if all goes as anticipated, we'll be seeing it hit the PlayStation Store on April 28 (that's tomorrow).
The Simpsons DLC for Minecraft gives gamers access to fun skins from the long-running television series, including the five main characters (Homer, Marge, Bart, Lisa, and Maggie), as well as other characters from the show, counted among them being Dewey Largo, Skinner, Uter, Otto, Groundskeeper Willie, and more.
The DLC pack will cost $3 USD when it arrives, and speculation has it that because the skins are only for the core family and the school-centric characters, we might be seeing this joined by additional skin packs in the future. That's not a guarantee, though. This isn't the only Minecraft change we'll bee seeing, however.
In addition to the new skin pack for PS4 gamers, all console players will be seeing an update that'll bring with it a female character named Alex, joining Steve and giving players a more diversified roster from which to choose. This is the same Alex character that is already available for those playing the game on PC. If all goes as planned, Alex will be landing on the console on April 29 (that's Wednesday).
SOURCE: Gamespot