If you're an avid Minecraft fan and just can't get enough of the sandbox-style game, we hope you're not planning to upgrade to Windows 8. The creator and developer of Minecraft, Markus "Notch" Persson, has stated that he won't be bringing Minecraft to the Windows 8 platform because of Microsoft locking down the new OS.
Persson tweeted earlier yesterday that Microsoft contacted him about certifying Minecraft for Windows 8. The game developer humbly declined, saying that he "told them to stop trying to ruin the PC as an open platform." He added that he'd "rather have Minecraft not run on Windows 8 at all than to play along."
He went on to protest Microsoft's new operating system in a way, mentioning that "maybe we can convince a few people not to switch to Windows 8 that way." We're not sure how many people will take his advice, but knowing that he's a popular name in the gaming industry, I wouldn't be surprised if a lot of gamers passed on a Windows 8 upgrade.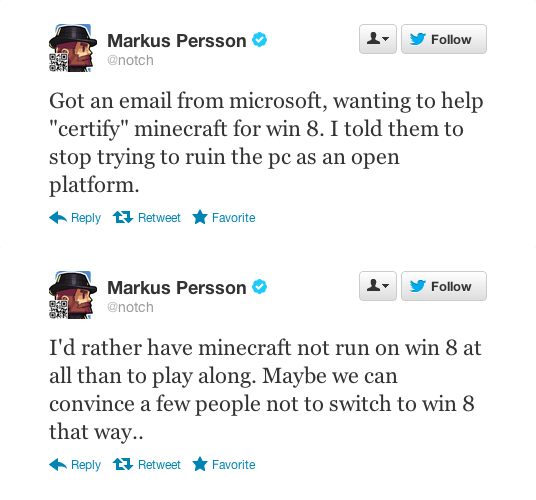 This wouldn't be the first time that Persson has bashed Windows 8. In a Reddit AMA thread last month he stated, "I hope we can keep a lot of open and free platforms around. If Microsoft decides to lock down Windows 8, it would be very very bad for Indie games and competition in general…there's going to be a lot of very interesting games in ten years, mixed in with the huge AAA games that we all love."