Minecraft 1.11 Exploration Update launches with loot and llamas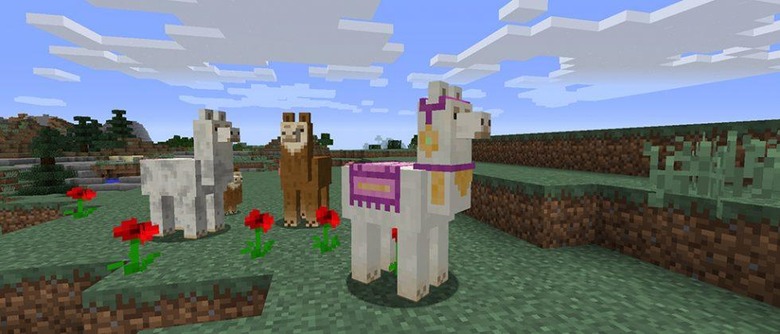 After being revealed at MineCon earlier in the year, Minecraft's version 1.11 update has entered into full release for the Java version of the game. More commonly known as the Exploration Update, version 1.11 looks to inject some more adventure into the game. It does this by introducing a new NPC villager called the cartographer, who offers maps that lead to hidden treasure.
However, those maps come with an emerald cost, meaning that only veteran players with some spare emeralds with want to seek him out. Once you've obtained your treasure map, following it will take you to either ocean monuments or woodland mansions. Inside woodland mansions, you'll battle NPCs called Illagers, who can summon flying creatures called Vexes and use other forms of magic in battle.
The treasure you seek is held within these woodland mansions, and Mojang highlights one such piece in the trailer for Minecraft 1.11: the Totem of the Undying. You'll be able to use the totem to bring you back from the brink of death, which is a powerful ability indeed.
Of course, this new loot only matters if you can actually carry it all back, which is why Mojang has introduced llamas in this update as well. You can use these llamas as something of a pack mule, storing your extra goods in their packs while you make the return trip home. Mojang also says they can spit at enemies, so their use goes beyond mere utility.
Mojang says that the items have been revealed are just a small part of the Exploration Update, and notes that this is the biggest update Minecraft on PC and Mac has received since June. There's no word yet on when this update will be heading to the console version of Minecraft, but hopefully news on that will be coming sooner rather than later.