There used to be a time where I only charged my cell phone every few days, and rarely worried about it actually dying on me. These days, if I don't charge my phone every single night, it will run out of juice before noon on the following day. And if I'm covering a show, or using it heavily, my iPhone 6 might not even last the day. This is why I like having a portable charger in my bag, so that I've always got a way to charge my phone.
I've been a fan of Mimoco for some time now. I've picked up a few of their cute flash drives over the years, all of which have been either Star Wars or Adventure Time characters. Well recently they sent over a couple of portable chargers that are right up my alley. I've spent a week or so using them to keep my various devices powered.
The first up is the Boba Fett MimoPowerTube2. Mimoco has been making their line of PowerTubes for a while now, so this one is pretty straightforward. It features a 2600mAh battery, which they say is good enough to charge most smartphones 1.5x times.
In the box I found the PowerTube, a small pouch, and a USB cable. Interestingly enough, 1.5′ cable has a microUSB connector, but also comes with a microUSB to Lightning adapter on it. It's a very handy way to ensure that you can charge iOS devices, and still still be able to charge the PowerTube without needing to have a second cable.
As a straightforward charger, the PowerTube performed exactly as one would hope. I was able to charge my phone once completely, and then a little extra. Checking the amount of charge left on the tube is also easy, as there's a small power button on the top, which you can tap. A row of four green lights will turn on, depending on how much of a charge is left.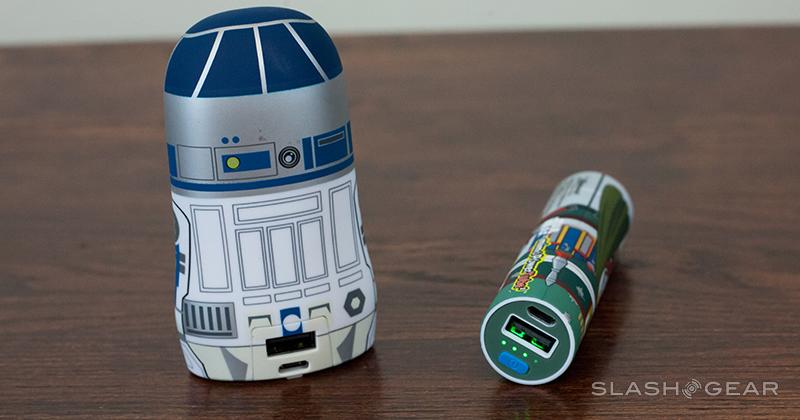 As for the looks, I couldn't be happier with how Boba is depicted. He's not quite as menacing as the character seems in the movies, but Mimoco has a way of making all of the characters they use look rather cute.
Next up is the R2-D2 PowerBot. Now this is something that has been a long time coming. You might think that these have been out for a while, and no one would blame you for thinking that. After all, these were Kickstarted way back in October of 2013, and went up for pre-order in June of the following year. Unfortunately the first units didn't start shipping out until last month.
Opening up the box, I found the exact same contents as were in the PowerTube. Bag, charging cable, Lightning adapter. Nothing new here. R2-D2 is looking cuter than ever though. The PowerBot has a distinctive shape to it, almost like a pear. Wider at the bottom, and then evening out toward the top. On the bottom in the front, there are two little feet that stick out. R2 doesn't really have feet, per se, but it adds some stability, and functionality to the device.
Once again, using the PowerBot is very straightforward. The 5200mAh battery was enough to get around 2 charges, and a little extra. The 2.1A port means that you won't have trouble charging even a tablet with it.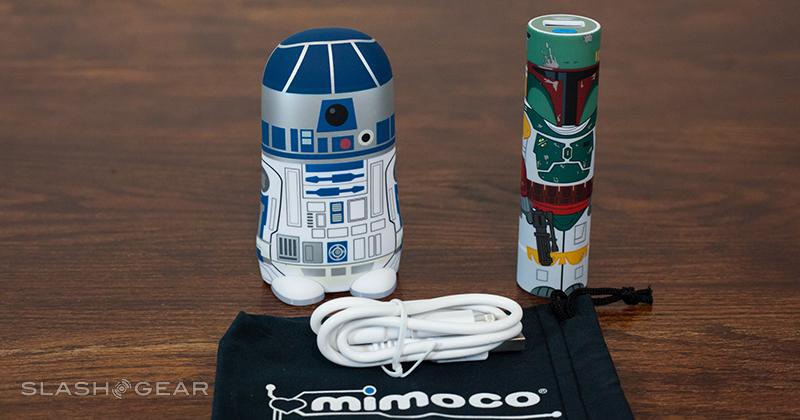 Remember when I said that the little feet added functionality to the device? Well, the feet light up blue to let you know that it's got a good charge, and blink a few times to let you know that whatever you have plugged in is starting to charge. If it has a low charge, the feet will light up red, when the test button on the bottom is pressed.
Both chargers work great, and have the added bonus of being cute and Star Wars-themed. If you're in the market for either a cute charger for yourself, or you're looking for a gift for the Star Wars lover in you life, these both make for a good choice. The smaller PowerTube retails for $29.99, while the bigger PowerBot goes for $69.99 (though Mimico has it on sale for right around $60 at the time of writing).