Millennium Falcon Multi-Tool Kit Puts The Swiss Army Knife To Shame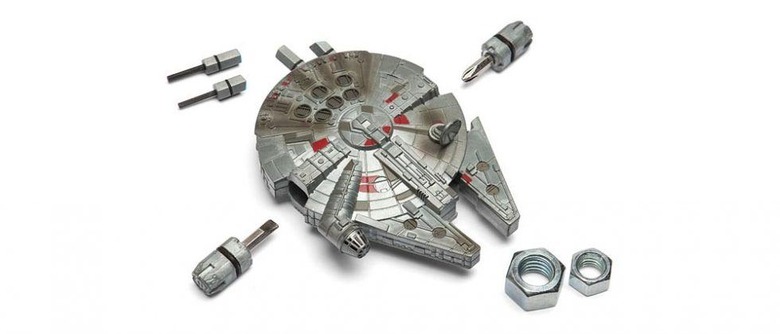 There's a new Millennium Falcon on the block, and it's small enough to fit in your pocket. The Star Wars Millennium Falcon Multi-Tool Kit is exactly what it sounds like — a multi-tool in the shape and style of the Millennium Falcon. With it, you can tweak and tinker small things: the loose screw on the kitchen cabinet, the little piece of plastic that keeps rattling in your car's dash, and the phone battery that never pops out easily.
The Millennium Falcon Multi-Tool comes from ThinkGeek, where it is currently on sale for $29.99 USD. The tool is small enough to fit in your hand, and therefore also your pocket, backpack, or car glove box (though who would want to hide this away in a glove box?). The tools on it are modest but cover most of the basics.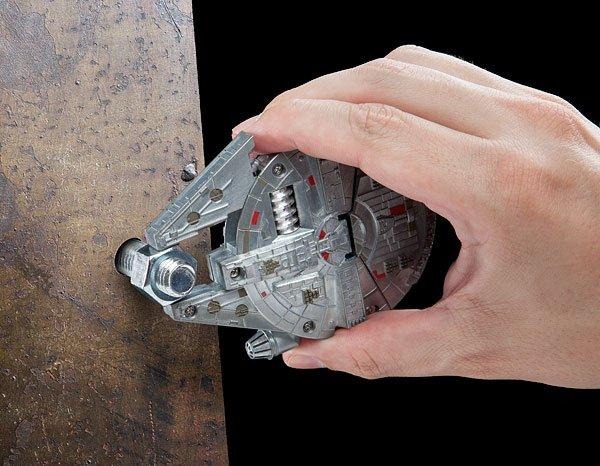 This Millennium Falcon features a pair of screwdrivers, one with a flat head and one with a Phillips head. There are also four hex keys with the following sizes: 5/32", 1/8", 3/32", 5/64". Each key slots into the back of the spacecraft, where rubber rings keep them fixed in place. The screwdrivers are also secured with rubber rings.
Finally, there's also an adjustable wrench as shown in the image. The hex bits and screwdrivers are made from carbon steel, meaning they'll be pretty durable, while the spacecraft is made from die-cast zinc alloy. The unit measures 4-inch x 3-inches overall, and includes realistic red trim and dark "burnt" spots.
SOURCE: ThinkGeek