Millennials spend 14% more time with mobile devices that generational peers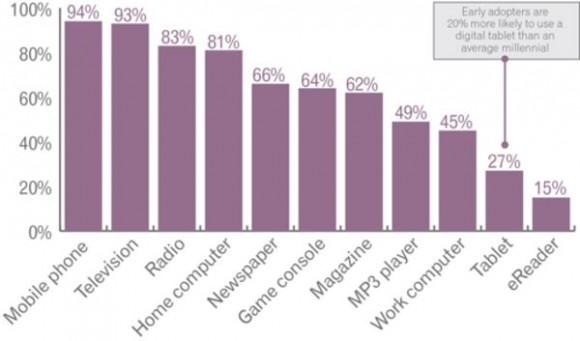 Millennials is a term given to the generation of 18 to 34-year-old people. A recent survey performed by Experian looked into the digital usage of this particular generation of people within the United States. The study was called the 2013 Digital Marketer Report and looked at multiple segments including the millennial generation.
The survey found that 24% of millennials have a college degree, 34% are married, and 60% own a home. The survey also found that they have an average discretionary spend of $11,317 per year. Interestingly, the survey also found that 52% of the specific age group rate far above or above average when it comes to being early adopters of technology.
The survey also says that this age group is more likely than the rest of the US population to visit social websites and search sites looking for product details before visiting a retail website. One interesting finding from the survey is that millennials spend 14% more time engaged with their mobile devices in an average week than other age groups. Early adopter millennials are also 20% more likely to use a tablet than other millennials.
Breaking down the early adopter segment of this group even further finds that early adopter millennials are 32% more likely to use IM and chat services than the average millennial. According to the survey, other top activities for the early adopter millennial segment include reading digital media, listening to music, and e-mail.
[via Experian]