Mikme wireless mic offers studio quality, mobile mixing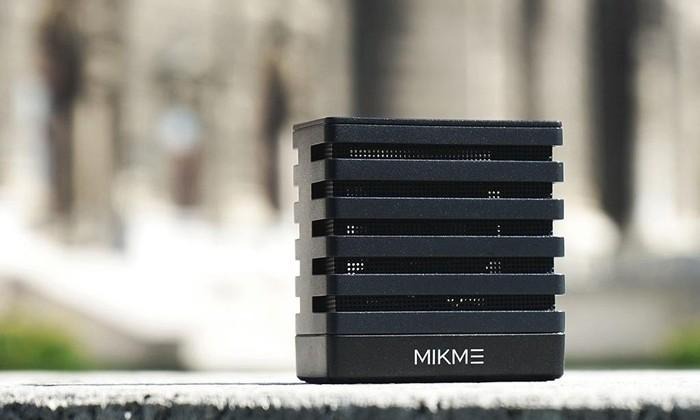 Mikme is a portable wireless microphone offering musicians and other audio hobbyists a way to capture studio-quality audio without setting up a recording station. The idea behind the device is that users should be able to start recording whenever the moment strikes without having to put the moment on hold to set up a quality microphone — or, alternatively, without having to settle for a lesser-quality smartphone recording. The microphone is joined by a smartphone app that offers, among other things, mobile audio mixing and sharing.
The Mikme wireless microphone offers up to 7 hours of battery life on a charge, and can be started and stopped by pushing a single button. Tapping the button twice lets users playback their latest recording, and joining that functionality are a couple ports for using headphones, connecting the device to a computer, adjusting volume, and more.
Joining the microphone unit is a mobile app, which is currently only available for iOS, though an Android version is promised. Via the app, users can stream up to 8 tracks per song and then use the mobile device to edit, mix, and share them. The app isn't needed to use the microphone, however, which features 8GB of internal memory able to hold up to 180 hours of recorded audio.
The maker behind the microphone — Mikme Audio — is seeking $217,000 USD on Kickstarter, where the company has currently raised nearly $29,000 USD with 54 days remaining. A pledge of $179 USD will get backers a single Mikeme, which is set to ship in May 2015 and eventually retail for $299 USD.
SOURCE: Gizmag