Mike touches up the OQO Model 02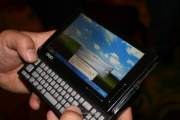 I think I'm getting a little bit of a crush on Mike Cane.  He comes across all grumpy and belligerent at first, and then you see a glimmer of childish glee such as in this post where he describes fondling an OQO Model 02.  Now that's news in itself, of course, as it's a rare beastie and is yet to hit the mainstream review circuit.
Mike is keen to point out that his isn't a review, just an act of pre-emptive and spontaneous molestation; nonetheless, the keyboard gets a rave report while the screen-slide is a potential concern (already feeling wobbly and flimsy in its movement).  Oh, and he also comments on some odd font treatment it looks like the OQO boys might've done, which have added up to fuzzy, bold-looking text.
Would he buy one?  Well, there was no price there and Mike prefers his passive touchscreens rather than active ones, he'd go for the Model 02 over a Sony UX.  Interesting stuff.
OQO Model 02 Fondle [Mike Cane's Blog]