MiiPC Android Kid-Friendly Desktop Review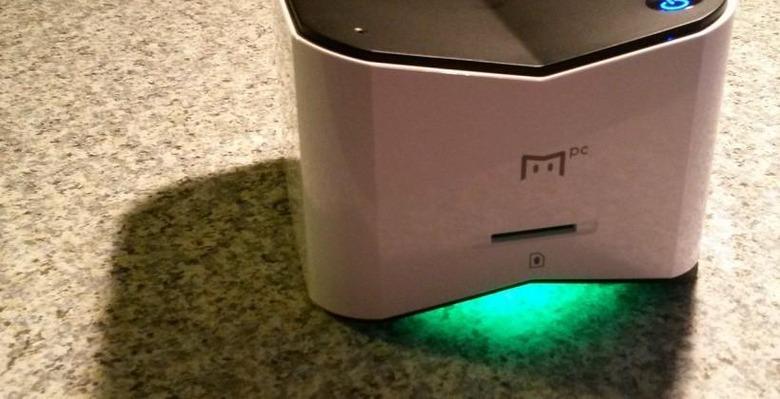 Kids and computers can be a beautiful mix or a disaster waiting to happen. Education-based applications and popular games are some of the biggest reasons kids get on the computer, and the various dangers of the Internet are one of the biggest reasons parents shy away from granting free-reign access. Such is where the MiiPC comes in. This small desktop PC, which is a cube scarcely larger than a softball, is aimed at families with young children, and offers, among other things, parental controls and runs on Android Jelly Bean. Read our full SlashGear review to find out what all the MiiPC has to offer.
Hardware
The MiiPC is a very simple desktop. Starting with the design, users get a cube with top and bottom plates that are angled inwards — while it makes it slightly awkward to place in a setup that contains other oddly-shaped set-top boxes and whatnot, the shape effectively disperses light: blue on the top from the power button, and green on the bottom from a large LED light bar.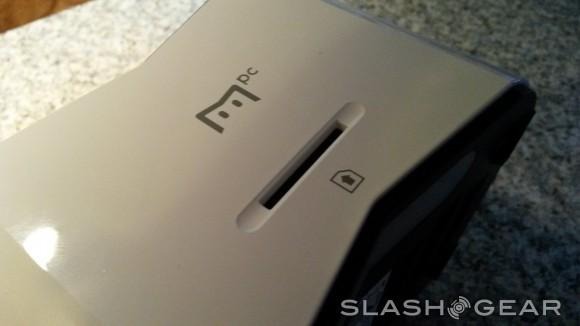 The entirely unit is made from plastic, with an SD card slot being the only port on the front. The rest of the ports, of which you get three USB ports, one HDMI port, Ethernet, an audio-out jack, and a microphone-in jack, are located on the back in a vented plastic grille. The entire bottom of the MiiPC also features a grille plate that allows for additional ventilation, as well as four rubber feet to keep it stable.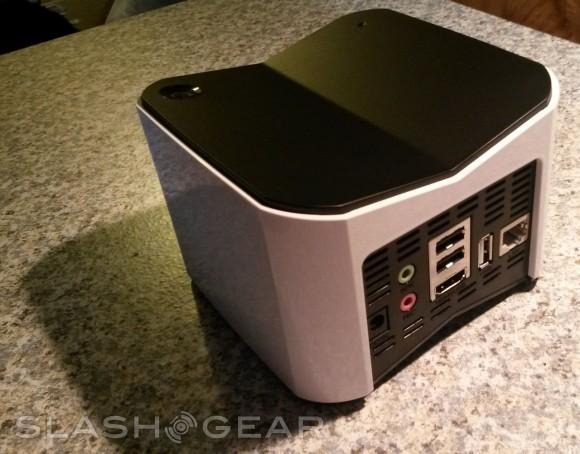 Neither outer edges feature any ports, and the top is home only to the power button, which is smooth and touch-activated. As far as the power button goes, this is my only complaint of the otherwise wonderfull little device — it is touch-activated, but the activation part of that equation isn't always so simple. I found myself tapping, touching, and swiping in different manners and lengths of time to get the PC to turn on, at one point even changing outlets in wonder of whether the present one was faulty. After turning the device on and off a few times, I've mostly got the activity of turning it on down (using my thumb, pressed flat and held still, for about three seconds seems to do the trick), but turning it off is still a task I'm yet to master, and the last time I tried, I found unplugging the power cable from the back to be a more convenient option.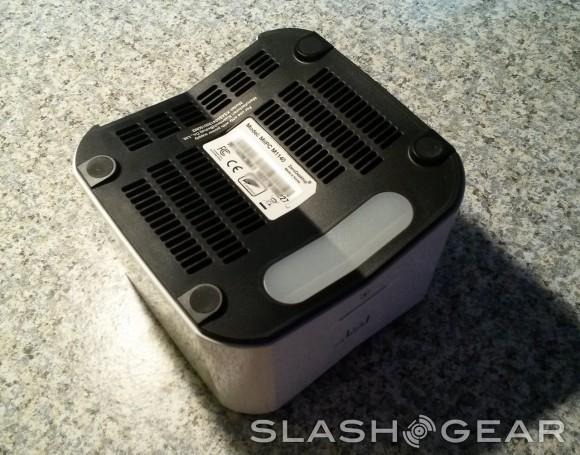 As far as physical setup goes, it is as easy as plugging in an HDMI cable, USB mouse, and turning the computer on.
Interface
When you first turn the device on, you're asked to choose between either the standard Android launcher or the MiiPC Launcher, and to then select the familiar "Always" or "Just once". I chose "Just once" for the MiiPC Launcher so I could go back and try later with the other launcher, but choosing this option caused the dialog box to keep reappearing, starting the process over. After three times of this, a little advisement box showed up telling me that I had to click "Always" to proceed. C'est la vie.
Note: We spoke to the MiiPC's founder, Young Song, earlier this year, and he gave us the low-down on the device, as well as a walkthrough of its interface.
At this point, you'll be prompted to sign in to your MiiPC account, or to create one if you haven't already. You'll need to be connected to the Internet to do this if you haven't connected an Ethernet cable already. For this part, I exited the screen instead of making an account and pulled up the connection settings, which are easily accessible in the bottom right corner. Connecting to WiFi was as simple as it is on any other device — click the network, and using the on-screen keyboard that appears or a USB keyboard that you've connected, enter the password and give it a couple seconds to connect. After that, I exited that screen and returned to the sign-on page. Creating an account involves the parent's name, email address and password, and upon completion it will register the MiiPC to that account. Very simple, taking only a couple minutes overall.

Once you've set your parental account up — which is basically an admin account — you'll be presented with the users screen, where you can click on your own icon and log in to your account, set up additional accounts for other family members, and do various parental activities like view account activity reports and such. Logging in is the most fun option of them all, finally taking you to the MiiPC desktop. From here you're presented with some familiar apps accessible on the desktop — Email, Settings, Search — as well as some device-specific ones like the MiiPC Browser and MiiPC Featured Apps Store.

Of course, the MiiPC Featured Apps Store is the first place I went, and inside I found access to a decent number of apps. Evernote, Flipboard, Google Translate, Hulu Plus, Dropbox, Angry Birds, and Fruit Ninja Free were among the familiar offerings, there were some others as well (Aldiko, Adobe Flash Player, etc.). Downloading an app involves only clicking a green down-arrow button, at which point the app is downloaded. You can monitor the downloading process in a status bar in the bottom right corner where the clock and network settings are nestled. A permissions box will appear telling you what the app gets access to, at which point you'll need to authorize it. The app's installation will finish and an icon will show up on the desktop. Anyone familiar with Android will be instantly comfortable using the system — it is fair to say there is a learning curve, but it is so slight I imagine even the youngest users will find themselves adapting to the UI within minutes.
If I'm to nitpick about the interface, I'll say there are a couple issues with it that I'd like to see changed in future iterations. One example was difficulty with adjusting app screen visibility using a non-touchscreen set up. I used the MiiPC in conjunction with a 32-inch television and a USB mouse/keyboard. While this worked well, there were times I wanted to make adjustments that seemed not possible. For example, when playing Angry Birds, I could not zoom out far enough to see both the contraption to be knocked down and the Birds, which meant I had to side-scroll between the two and try to estimate my aiming. Not impossible to play, but a crippled play when compared to using a tablet or smartphone. In a perfect world, the scroll bar on my mouse would have allowed me to zoom the screen in and out. Other issues included getting a "no more room" notification when trying to add apps to the home screen, though it was only half-filled. Again, not a huge issue, but something that can be improved, and likely will be as the final wrinkles are ironed out.
Beyond this, there are mobile apps that allow parents to control the MiiPC from their smartphone, and the device can be used whether it is offline or on. There's a MiiPC Media Server option, allowing the device to function as a hub for access to one's personal media library, and given the ability to play well with big displays up to 1080p, this is a welcomed feature.
Performance
The MiiPC runs on a 1.2GHz dual-core New Armada chip with a gig of RAM and 4GB of internal storage space (we've got a little over 2GB of available internal storage space on our stock device, so you'll want to get an SD card if you're planning on heavy usage). Obviously, you're getting something that is modest in the power department, but that doesn't mean you're in for performance issues when using the device as it is intended. Android games (Angry Birds and Fruit Ninja) played as smoothly as they do on a solid smartphone or tablet, Internet browsing with the integrated browser was snappy, and toggling between activities presented no issue.
Wrap-Up
The MiiPC is a little device with a lot to offer, and though it is aimed at families with children, it is easy to see how anyone could use it as an inexpensive ($99) Android computer as part of their home theater setup. Once setup, integrating the Android desktop into my overall set up proved easy, and I was able to leave it running for a handful of days without issue. Using a wireless mouse and keyboard, one can control the system from across the room, pulling up games for kids to play when they're around, and using it to watch media or browse the Web at other times.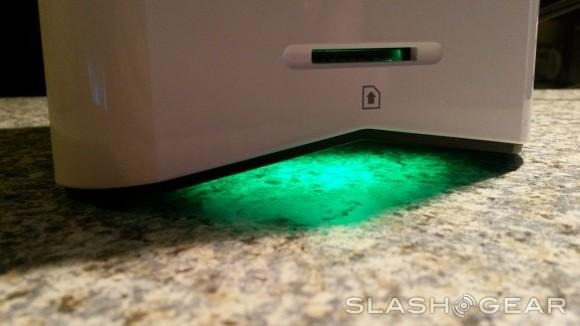 There are certainly some user interface issues that it would be nice to see ironed out. The ability to streamline certain activities the way you'd expect on a desktop — right-clicking to set the wallpaper, scrolling through screens with a mouse wheel, etc. — would be nice, eliminating what feels like some unnecessary amounts of hunting and pecking in the current iteration. The MiiPC is a new product, however, and so it is expected additional refinements will be made in the coming months. Overall, if you have a kid and you're looking for a totally controllable desktop that is easy to use and pretty much foolproof, you can't go wrong with the MiiPC.