MID concept gets Filofax-style shortcut tabs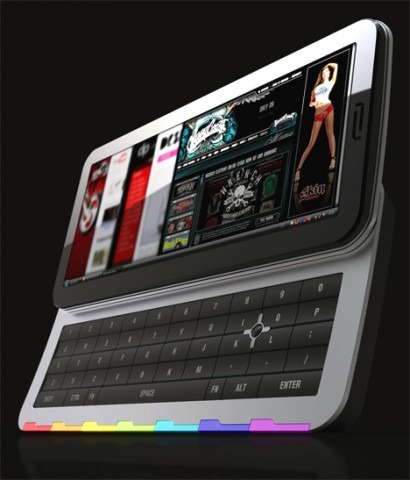 I'm a sucker for a pretty MID concept, and this is one of the slickest I've seen in a long time.  The handiwork of Jan Rytir, what's particularly appealing – aside from the slick curved-slide QWERTY keyboard – are the seven colored shortcut tabs along the edge, which are pleasingly reminiscent of a Filofax.
Jay envisages the MID measuring 180 x 80 x 20mm, leaving plenty of room for the wide-aspect OLED touchscreen.  A trackball is embedded in the keyboard, for straightforward two-handed use while standing or walking, and there are stereo speakers for entertainment.
Under the hood would lurk an Intel Atom processor, while connectivity would include two USB ports, audio in/out, an SD card reader and a docking port, together with the usual wireless options.  It's gorgeous, and I hope Aigo, Compal, Viliv or one of the other MID manufacturers are paying attention.
[via Generation MP3]