Microvision now shipping SHOWWX pico laser projector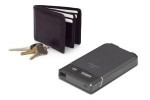 We caught our first glimpse of the Microvision SHOWWX laser pico projector back around CES 2009 in January. The projector is the world's first laser pico unit. Pico projectors have hit the market in force this year, but they typically use DLP technology. Microvision has announced that it has received a purchase order and is now shipping the SHOWWX projector.
In case you missed the projector before, it is a small plug-and-play projector that is capable of projecting an image of 12-inches to 150-inches depending on ambient light. The PicoP display engine keeps the image in focus no matter how far the projector is from the projection surface.
The resolution of the projector is 848 x 480. I hope that the laser backlight will fix the main issue with pico projectors I have used — low brightness. Some of the units I have tested were useless in even marginally lit rooms. Pricing and availability for the SHOWWX is unknown.