Microvision announces PicoP laser display engine for mobile embedded devices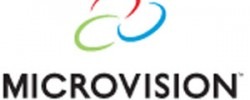 Microvision is the company behind that cool Show WX pico laser projector that went up for sale in early March. The company has announced that it has completed the design for a new PicoP laser display engine for embedded mobile applications.
The new PicoP laser engine uses a new proprietary ASIC chipset that is half the size of the original chipset and consumes a third less power than the original. It has a resolution of 848 x 480 and a contrast ratio of 5000:1.
The maker claims that the contrast ratio is five times greater than other pico projectors on the market. The company is mum on the brightness of the projector. Brightness is the bad spot for just about every pico projector on the market. I hope that this one is brighter than previous generations as well.