Microsoft's My Workspace is a productivity menu bar app for Mac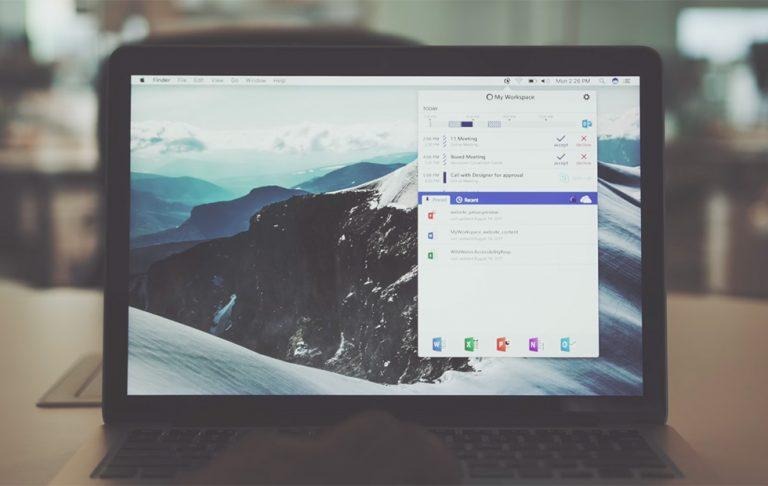 If you're a Mac owner who frequently uses Microsoft's software products, the company has a new productivity tool to help your workday flow more smoothly. Called My Workspace, the app is a menu bar item that, when clicked, presents a slew of Microsoft software products in a single window. Users get direct access to their OneDrive files, Skype contacts, calendar plans, and more.
The video below demonstrates My Workspace in action, but it is very straight-forward in use. Found within the upper menu bar on macOS, My Workspace launches a rectangular window with Microsoft products that can, in some cases at least, be launched directly from that pane. Clicking the OneDrive icon, for example, pulls up OneDrive in the browser, giving greater access to the content stored within.
When viewing the day's itinerary, My Workspace also makes it possible to directly launch a Skype call with a contact by clicking the Skype icon. It is designed for Office 365 users, and is focused on the idea of providing at-a-glance productivity. The team behind the product stresses that this is a unique Mac product as far as aggregating and presenting Microsoft services is concerned.
The product doesn't ignore the fact that it is running on Mac, though, working with iCloud Calendar to present the user's schedule, including whatever events and appointments they have coming up. If a Skype meeting has already been scheduled, the users can join that meeting with the same single-click as initiating a call.
The best part? My Workspace is available for Mac users to download now from the app's dedicated website.
SOURCE: iMore