Microsoft's Marketing for Halo Reach Continues, Has Spartan Using a Real Jetpack [Video]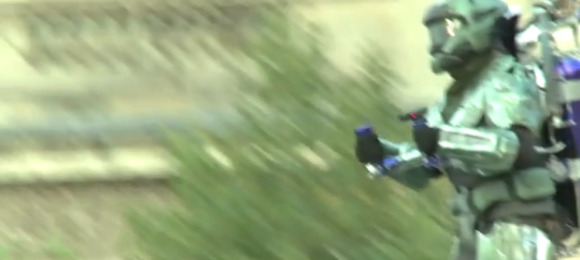 There's no doubt that Microsoft pushes a lot of its money into the marketing behind one of its largest marketable products. Halo has been a money factory for the Redmond-based company, as well as Bungie Studios (the studio developing the First Person Shooter (FPS), so to see a huge marketing campaign kicked off before the release of the title is no surprise at all. And, with only a handful of hours to go for those in the UK, seeing a man dressed up like a Spartan take flight in a jetpack may just be outrageous enough to get a fence-sitter to spend the cash on the upcoming blockbuster.
Whether or not Halo: Reach will out-sell other FPS titles still coming out this year, like Call of Duty: Black Ops is anyone's guess at this point, but Steven McGill obviously has his own opinion. He's the head of Xbox over in the UK, and he was on scene to watch as a Spartan flew over Trafalgar Square in London. It may not be the biggest marketing aspect of the whole period leading up to Reach, but it's certainly one of the coolest. Check out the video below to see it for yourself.
[via VG247]