Microsoft's iOS Word Flow Keyboard starts closed beta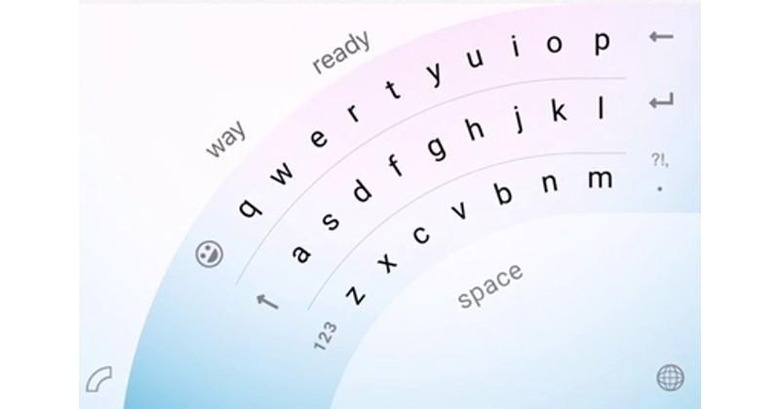 Microsoft has a virtual keyboard for every platform, and they are all different. The Windows 10 keyboard, for example, lacks the swiping gesture of its older Windows Phone counterpart. On Android, its Hub Keyboard puts the focus on productivity and sharing documents instead. Its upcoming iOS keyboard, however, might trump all those, at least as far as smartphones are concerned. Called Word Flow Keyboard, this rather unique keyboard includes a special design intended for one-handed use, utilizing an arcing layout instead of simply shrinking the keyboard to one side.
We've actually caught sight of this feature back in January but we're nonetheless pleased to see it survive all the way to this closed beta phase. Whether it makes it to the final version will probably depend on how useful it will be for users outside Microsoft's software labs. Keyboards that advertise one-handed use usually simply shrink and squeeze the keyboard to one side of the screen. However, at least compared to Microsoft's implementation, that one is still inefficient.
The Word Flow Keyboard arranges the keys in an arc on either edge of the screen, instead of straight rows of keys. What this does in effect is to put keys on the same row (like Q to P on a QWERTY layout) at the same distance from the corner of the screen. That is, the distance of P from that corner is the same as Q's distance, making it just as easy to reach. Both normal and arc modes do support swiping gestures to "type" out words, adding to the ease of one-handed use.
Microsoft is also throwing in some pretty personalization features too. And by pretty, we mean pretty themes. In addition to built-in themes, the keyboard also allows you to use any photo of your choosing from your Photo Library.
As mentioned, the Word Flow Keyboard for iOS is still in closed beta. No word, not even a hint, yet on when it will go out to the public.
VIA: MacRumors