Microsoft's Chromebook-eating Windows 10 S notebooks start at $189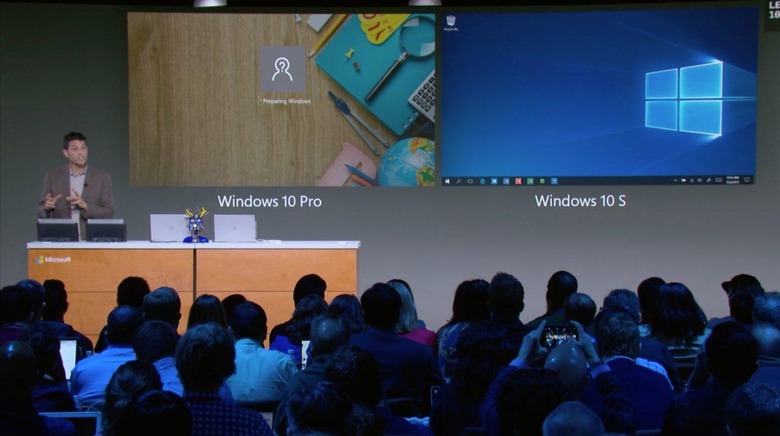 Microsoft revealed Windows 10 S today with word that notebooks running the software would be available soon starting at less than 200-dollars. As the presentation of Windows 10 S centered on education, Microsoft sent a rather clear message to Google. Microsoft's goal right this minute is to stop the movement of schools turning to Chromebooks to suit their low-cost, needs-met notebook needs, while turning them on to a new, more streamlined version of Windows.
A Windows 10 S laptop will run apps from the Windows Store. As Microsoft's Terry Myerson suggested, "[all software] that runs on Windows 10 S is downloaded from the Windows Store." In essence, this means that Microsoft's curation process in the Windows Store dictates what's available to run on a Windows 10 S laptop.
Microsoft is aiming Windows 10 S at the education sector, but there might be room for users to take their basic computing to a new level – outside the Chromebook universe. For those users that do not like using smartphones or tablets at home, for example, Windows 10 S and its streamlined approach could be the key to that low-cost, easy-to-use combo in a laptop they've been waiting to find.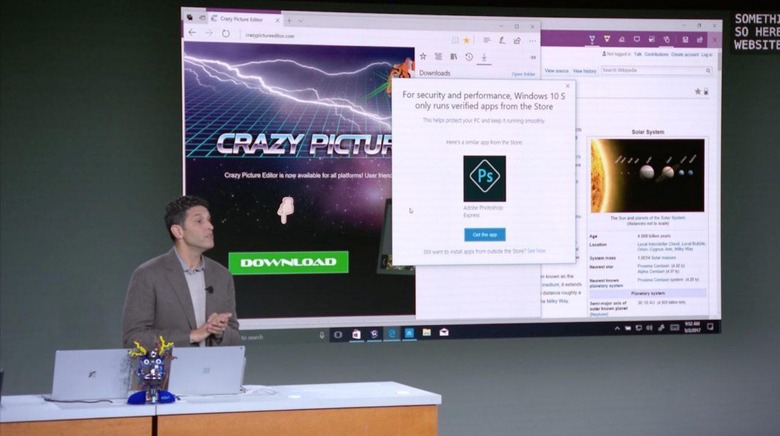 Windows 10 S apparently starts up faster than Windows 10 Pro. A demo onstage at Microsoft's event showed the process taking around 15 seconds on Windows 10 S while Windows 10 Pro took twice as long. Which, come to think of it, doesn't say a lot of good things about the word "Pro" in this equation.
Windows 10 S education PCs will start at $189 from a variety of hardware manufacturers. Manufacturers include Acer, ASUS, Dell, Fujitsu, HP, Samsung, and more. Administrators looking to get in on the software that controls these laptops will find Microsoft Intune for Education available starting today.
With the purchase of any Windows 10 S education PC, users will find a free subscription to Minecraft: Education Edition for one year. This latest announcement from Microsoft also includes free Microsoft Office 365 for Education with Microsoft Teams. All school computers running "genuine" Windows Pro PC software will get Windows 10 S for free.