Microsoft Xim goes big, adds Chromecast, Xbox One support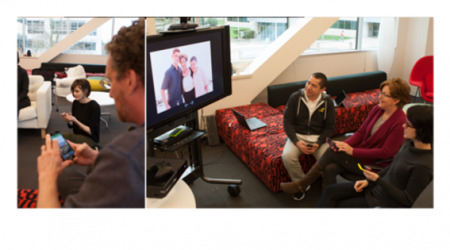 Given the amount of flack Microsoft has been receiving lately, it's is almost a surprise, pleasant or otherwise, that it would come up with small but priceless pieces of gold in unexpected corners. One of those was Xim, a super easy photo sharing app that Microsoft launched just over two months ago. Now at version 1.3, Xim is getting bigger, almost literally. Not only is it available on all major mobile platforms, it can now stream photos to Xbox Ones, Chromecasts, and Apple TVs as well.
Xim makes it dead simple to show off photos by creating an ad hoc network that other can join, whether they are in the same room or elsewhere, to view your photo selection. Perhaps the best part about Xim is that only one of the group, the sender usually, needs to have Xim installed. The rest can just jump right in, no matter the platform.
With the latest update, you can show off your photos inside a bigger screen so that everyone, even those without smartphones or tablets, can enjoy them in full view. Xim can now sends its photo roll to streaming devices such as a Chromecast or an Xbox One or an Amazon Fire TV. And if you don't have any of those, you can also Xim your photos to a web browser to display on a computer with a much larger screen than your phone.
The viewing fun doesn't end there though. You can combine those two major features for even more synchronized viewing. You can pair up with a TV and a smartphone and have the exact same experience and convenience. Invite someone to a Xim session and connect your phone to an Xbox One, for example. Now you can both control what appears on each of your devices as well as on the TV. And like a regular Xim session, this works even when people aren't even in the same state.
This update to Microsoft Xim is now rolling out to users and app store. And unlike the initial launch which was limited only to Android at first, the update is available on Google Play Store, iTunes App Store, and Windows Phone Store.
SOURCE: Microsoft