Microsoft VR kit is a Google Cardboard competitor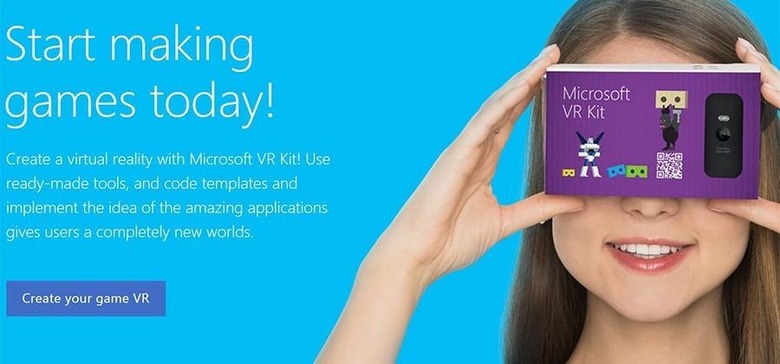 Google Cardboard is a cardboard smartphone holder that is designed to use your smartphone to make a VR entertainment system on the cheap. Microsoft now has a competitor to Google Cardboard that has debuted called VR Kit. The VR Kit hasn't been touted by Microsoft just yet, but it was spotted on a website promoting a Microsoft hackathon in Russia.
That hackathon will use the Microsoft VR Kit and will look like the purple clad cardboard box that you see above. It looks a bit more polished than the Google offering that is bare cardboard. What we don't get a good look at is just how the VR Kit is designed on the inside.
It's also unclear if the VR Kit will hold devices other than Lumia smartphones. Presumably any device that is the same shape and size as the Lumia will work. The hackathon event in Russia is kicking off on October 17. Successful ideas from the hackathon will land the developers a VR kit to use to continue developing the idea.
There are three categories for the event including game, education, and best corporate apps. Winners will be chosen in each category. I wonder if the VR Kit includes the Lumia smartphone because winning a small cardboard box isn't much of a prize.
SOURCE: thurrott