Microsoft VR comes with $300 headsets from Lenovo, ASUS, Acer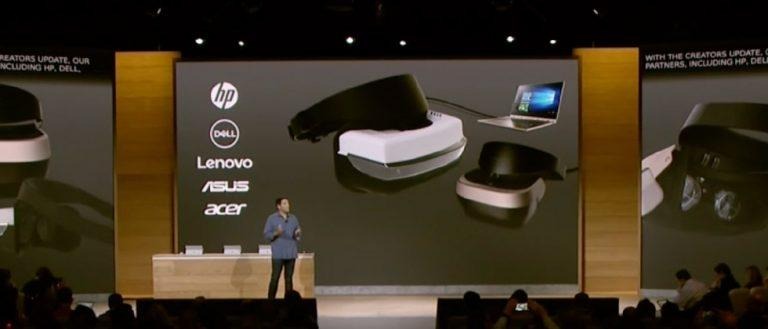 Microsoft has just officially unveiled its Windows 10 Creators Update, and with it comes a new approach to its mixed reality platform HoloLens. During Microsoft's event, the company announced that HoloLens will be getting support for the 3D community features that will be included in the update, but perhaps the more surprising announcement was that of Microsoft's new focus on virtual reality.
Thus far, Microsoft's focus has been on providing a mixed reality world, and while HoloLens will remain an important product going forward, there seems to be the admission that it isn't for everyone. With HoloLens' current cost clocking in a $3000 at a minimum, that's definitely true, so Microsoft is looking to capture the attention of a wider audience through less expensive VR headsets.
These headsets will allow people to have a more affordable VR experience on their PCs. In one of the demos Microsoft showed off, we were taken to a seaside room. On one wall, we see a soccer match playing in Microsoft Edge, while on the other is a selection of favorite apps, ready to boot up within the virtual reality world. In another demo, we were spirited away to to the Pantheon, giving us a virtual, up-close look at the ancient Roman temple.
Microsoft seems to be interested in making a rather big splash in the virtual reality space, announcing a range of VR partners for this initiative. These partners include HP, Dell, Lenovo, ASUS, and Acer, and the Windows 10 VR headsets will start at $300. With headsets like Gear VR on one end of the spectrum and HTC VIVE on the other, this announcement means that Microsoft may be offering our first mid-range VR headsets.
Launching at a price point that starts at $300 will certainly catch some attention from folks who are interested in dipping their toes into the world of VR. There's no word on when these VR headsets will become available, but we expect to hear more as we close in on the launch of the Windows 10 Creators Update. Stay tuned.