Microsoft unveils new Windows Server solutions Phone connector for Win Home Server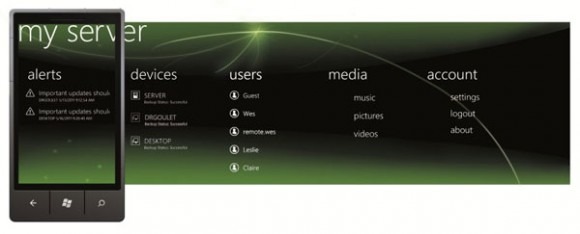 Microsoft has released a cool new official tool for Windows Phone 7 users that also have a Windows Home Server 2011 machine. The new tool is called the Windows Server Solutions Phone Connector. It allows you to integrate your Windows Phone 7 smartphone with your WHS 2011 server at home or work.
The app will let the phone user connect to their storage server as well. The app offers connectivity with Windows Phone 7 into Windows Home Server 2011, Windows Small Business Server 2011 Essentials, and Windows Storage Server 2008 R2 Essentials. After the app is installed and integrated into the home or office network the app allows the user to remotely administer their server.
Using the app the server owner can perform management tasks including viewing alerts, managing users, or starting and stopping backups. If the permissions are set correctly, the user can also use the phone to view and access media files on the server. To integrate the support the servers need to have a plug-in installed that can be downloaded free and the app for the Windows Phone available on the Zune Market.
[via Windows Team Blog]