Microsoft unveils Atom-based Surface 3, the Pro 3's little brother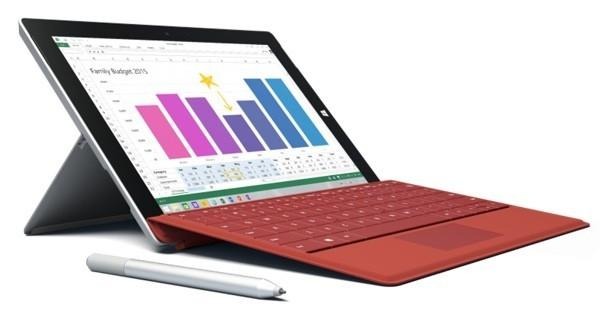 Microsoft is adding a new Surface table to their arsenal. In an attempt to capture the attention of students, families, or anyone not enamored with the Surface Pro 3's $799 starting price, Microsoft has the Surface 3 (non-Pro). Starting at $499, the device sports a 64-bit Intel Atom x7 Cherry Trail quad-core SoC, sports 2GB RAM, and 32GB memory on-board. The Surface 3 will ship with Windows 8.1, but is upgradeable to Windows 10 once that version is available.
Expect to see Surface 3 in stores this May 5. It's available for pre-order starting today.
Aside from the aforementioned specs, the Surface 3 has a 1920 x 1280 resolution 10.8-inch display, which has a 3:2 aspect ratio. On launch, the WiFi version will be available. Later this year, Microsoft will have an LTE-ready version available via T-Mobile and Verizon, though no date or timeframe was given for that one.
At 622g (1.37 pounds), it's the lightest Surface tablet Microsoft has ever made. The 8.7mm profile rivals other larger tablets, and you'll still be able to slip Microsoft's impressive keyboard on the bottom. Surface 3 naturally supports Microsoft's stylus, but it won't be included with your purchase.
Mini DisplayPort and USB 3.0 will serve as your main plug-and-play ports, while microUSB is around for charging (it seems Microsoft isn't quite ready to hop on the USB-C bandwagon). A microSD card reader is also included, while an 8MP camera is housed around back.
There are a lot of unanswered questions with Surface 3; things like battery life or how well the odd screen size works with Microsoft's Surface keyboard folios can be answered in a review. Once we've got one in-hand for a longer duration, we'll be sure to answer those for you.
Source: Microsoft