Microsoft to revamp Hotmail with Metro styling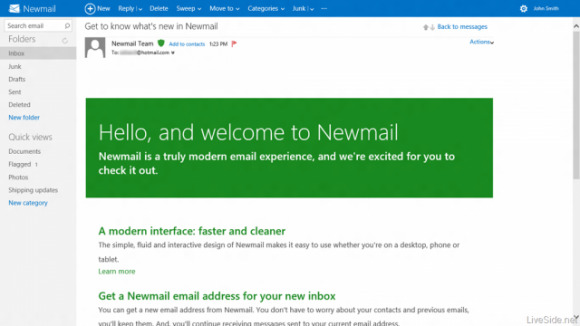 According to leaked screenshots obtained by LiveSide, Microsoft is getting ready to revamp Hotmail with a new look that will be more in tune with the Metro-styled Windows 8 due out later this year. The screenshots reveal a clean new interface and possibly new branding as "Newmail." However, it's believed that the name is just a placeholder.
The new Hotmail interface features the Metro UI's minimalist stylings with a sliver of a header and a tucked away navigation bar. When you tap on the "Newmail" logo, the navigation bar drops down with the icons for Mail, People, Calendar, and SkyDrive. From there you can select which page to go to. Otherwise, plenty of space is devoted to what's at task, eliminating all the clutter we're used to seeing on the current Hotmail.
Overall, the new interface is expected to offer a fast, fluid, and intuitive experience. It is optimized for both traditional keyboard and mouse as well as for touchscreen navigation. Advertisements on the new Hotmail are also expected to be more streamlined and less distracting. It's not been revealed though when Microsoft plans to roll out the changes.
[via TechCrunch]